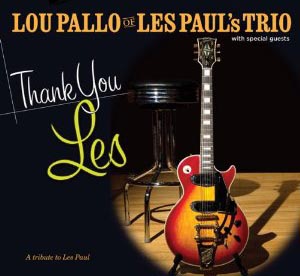 A new tribute album to Les Paul is out now. Thank You Les has been put together by Lou Pallo, long-standing friend and co-guitarist in the Les Paul Trio, and it assembles a stunning cast.
Steve Miller, who also contributed liner notes, sings and plays on "Mr. Day/Tell Me What's the Reason" and "Nature Boy." Keith Richards provides vocals and guitar for "It's Been a Long, Long Time," Billy Gibbons is featured on "September Song," Jose Feliciano plays "Bésame Mucho," and Eddie Brigati of the Young Rascals appears on "I'm Confessin' That I Love You."
Nokie Edwards from the Ventures trades lines with Pallo on "Caravan" and "Out of Nowhere." Slash plays on "Deep in the Blues."
Les Paul fans can learn more at ThankYouLes.com. A DVD of the album's making is also out.