Posts from June 2014
The latest episode in the
Live at Montreux
concert video series, due out July 22, will feature none other than ZZ Top. The video,
Live at Montreux 2013
, will offer highlights from a set the Little Ol' Band from Texas performed last July during Switzerland's Montreux Jazz Festival.
It's no surprise that the video, which will arrive on both DVD and Blu-ray, features the Texas trio performing some of its most beloved songs, including "Sharp Dressed Man," "Legs," "La Grange," "Gimme All Your Lovin'" and "Tush." The performance also offers a cover of the Jimi Hendrix Experience's "Foxey Lady" and a few songs off the band's latest full-length, 2012's La Futura.

In other ZZ Top news, the guys are currently touring Europe and will set off on a new series of North American summer and fall dates later this month. For the full list of upcoming ZZ Top shows, visit the band's official website.
ZZ Top's Live at Montreux 2013 Video Track Listing:
"Got Me Under Pressure"
"Waitin' for the Bus"
"Jesus Just Left Chicago"
"Gimme All Your Lovin'"
"Pincushion"
"I Gotsta Get Paid"
"Flyin' High"
"Kiko"
"I Loved the Woman"
"Foxey Lady"
"My Head's in Mississippi"
"Chartreuse"
"Sharp Dressed Man"
"Legs"
"Tube Snake Boogie"
"La Grange"
"Tush"
Related: Check out the Billy Gibbons "Pearly Gates" Les Paul Standard
---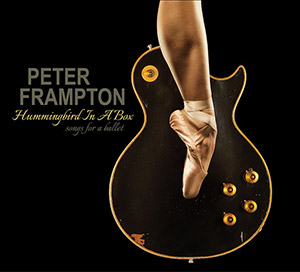 Talkbox legend Peter Frampton is releasing his new album
Hummingbird in a Box
, on June 24 via RED Distribution/Sony Music.
The album was inspired by the Cincinnati Ballet. Frampton co-wrote the seven pieces together with Gordon Kennedy. The pair also worked together on the album Fingerprints in 2006.
The music for Hummingbird In A Box debuted live in April last year at Cincinnati's Aronoff Center for the Arts. Two of the segments were choreographed to existing Frampton songs, while the third was based around the seven new compositions. Frampton and his band was on hand to perform the music live.
"Writing for dance was a wonderfully freeing experience. There were no boundaries. We were able to push the composing envelope," Frampton said about the project, with Kennedy adding "Songwriters and musicians create music to move people. This was beautiful, graceful, and instantly gratifying!"
If you're itching to see Peter Frampton in concert, there's ample opportunity this summer. The guitarist will be on tour in the US throughout the summer, both on his own and on a co-headlining tour together with The Doobie Brothers. For exact dates see Peter Frampton's official website.
---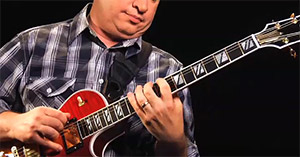 A new study has determined that children who undertake early music training become better at processing and retaining information.
The research further determined that musically trained children possess greater problem-solving skills than untrained children of the same age.
As reported by London's Daily Mail, the study looked at children who had played an instrument for at least two years in regular private music lessons. "…We think our findings have strong educational implications," said Nadine Gaab, who led the research. "While many schools are cutting music programs and spending more and more time on test preparation, our findings suggest that musical training may actually help to set up children for a better academic future."
Gaab further suggested the research may have implications for adults suffering from cognitive dysfunction as well. So, ready to get started on those music lessons? Click here.
---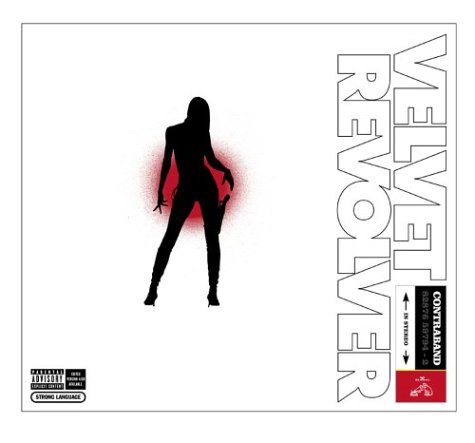 Slash recently spoke about the seemingly never-ending search for a new Velvet Revolver singer. The band have been on the lookout for a new frontman since parting with Scott Weiland back in 2008.
The guitarist is a bit frustrated with the lack of new young rock singers, as he told Gary Cool (via Blabbermouth): "There's a lot of people that we tried out that we don't talk about. The more that time passes, the less rock and roll singers there seems to be. Like, that style of just really, sort of, from-the-heart, guttural rock and roll. It seems to be just getting more and more glossed up."
Velvet Revolver were close to partnering up with Corey Taylor a few years back, even going so far as to record ten songs with the Slipknot singer. The band briefly reunited with Weiland for a one-off event in 2012, but don't seem to have any plans on inviting him back in the fold.
Slash ensures that Velvet Revolver is still very much alive, just in hibernation: "Obviously, it's not broken up; it's sort of in a state of dormancy. And so whenever the right guy [pops up]…" In the meantime fans of Slash can look forward to a new album, World on Fire, on September 15.
---
Ontario, Canada's Nipissing University has bestowed honorary degrees to all three members of Rush, along with six other Canadians, as the university celebrated the 2014 graduating class on June 12.
Geddy Lee, Neil Peart and Alex Lifeson received Nipissing's first-ever honorary Doctorate of Music awards.
Bassist/vocalist Lee and guitarist Lifeson had planned to attend the ceremony in person but could not do so as it was unsafe for their plane to land due to foggy conditions. Instead, they quickly recorded acceptance speeches on video. Lifeson credits the band's 1976 2112 album with keeping them going at a difficult point in Rush's career.
Watch Alex Lifeson's below.

Tags :

Topics :

classic rock, classic rock music news, Entertainment_Culture, Human Interest, Rush band, Rush get degrees, Rush music

Social :

Entertainment_Culture, Human Interest

Locations :

Ontario

People :

Alex Lifeson, Geddy Lee, Neil Peart, Rush




---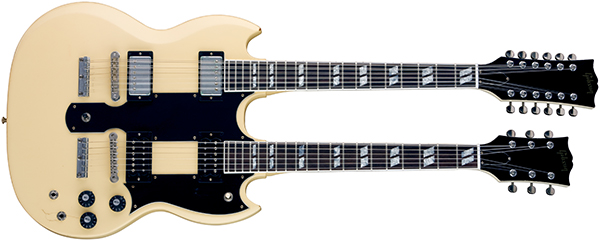 Former Eagles guitarist has recalled how the original solos on the band's classic "Hotel California" were nearly "lost."
When he turned up for recording sessions for the album, Felder began playing a different solo, only for drummer Don Henley insist he play exactly the same thing he had done on the demo.
Felder tells Rock Cellar: "On the demo I changed guitars and played one lick and kind of duelled with myself. When we went into the studio to record the solo, Joe Walsh and I set up and to play the ending on the record. I started and played a lick and Don Henley went 'stop, that's not right.' And I said 'what do you mean it's not right, we're just gonna make these solos up.'
"He said 'no no no, you have to play them exactly like what's on your demo.' We were in Miami and the demo cassette was at my house in Malibu. I had to call my housekeeper and have her go get a cassette machine, find the demo cassette in the studio and play it to us in the studio over the phone.
"We recorded it onto another cassette machine in the studio. Then I had to go out, sit in the studio and re-learn what I'd already played a year before that."
Of course, if Don had had a Memory Cable!!!!
---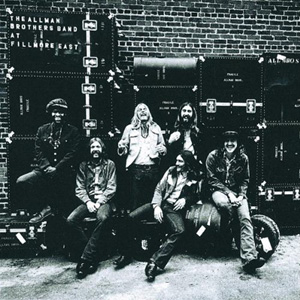 The Allman Brothers Band's classic 1971 live album, At Fillmore East, is being expanded into a six-CD box set. Titled The 1971 Fillmore East Recordings, the new set will feature 15 previously unreleased performances—including one disc devoted entirely to a previously unreleased full show the Allmans performed at the legendary venue on June 27, 1971.

Promoter Bill Graham selected the band to headline the June show—which also featured the J.Geils Band, Albert King and Mountain, among others--to mark the Fillmore East's final night.

The expanded set will be released July 29, roughly two months before the Allmans perform their final concerts at the Beacon Theatre in New York. "That weekend in March of '71 when we recorded At Fillmore East, most of the time it clicked," recalls drummer Butch Trucks. "We were finally starting to catch up with what we were listening to. We had lived together … we got in trouble together; we all just moved as a unit. And then, when we got onstage to play, that's what it was all about—and it just happened to all come together that weekend."

The 1971 Fillmore East Recordings track List:

CD 1

March 12, 1971 - First Show

1. Statesboro Blues 4.08 (previously unreleased)
2. Trouble No More 3.48 (previously unreleased)
3. Don't Keep Me Wonderin' 3.19 (previously unreleased)
4. Done Somebody Wrong 4.01 (previously unreleased)
5. In Memory Of Elizabeth Reed 17.05 (previously unreleased)
6. You Don't Love Me 16.55 (previously unreleased)

CD 2

March 12, 1971 - Second Show

1. Statesboro Blues 4.12 (previously unreleased)
2. Trouble No More 3.50
3. Don't Keep Me Wonderin' 3.28 (previously unreleased)
4. Done Somebody Wrong 4:30
5. In Memory Of Elizabeth Reed 19.50 (previously unreleased)
6. You Don't Love Me 19.10
7. Whipping Post 20.00 (previously unreleased)
8. Hot 'Lanta 5.09

CD 3

March 13, 1971 - First Show

1. Statesboro Blues 4.20
2. Trouble No More 3.48
3. Don't Keep Me Wonderin' 3.47
4. Done Somebody Wrong 3.55 (previously unreleased)
5. In Memory Of Elizabeth Reed 13.00
6. You Don't Love Me 19.10
7. Whipping Post 17.15 (previously unreleased)

CD 4

March 13, 1971 - Second Show - Part 1

1. Statesboro Blues 4.19 (previously unreleased)
2. One Way Out 4.30 (previously unreleased)
3. Stormy Monday 10.14
4. Hot 'Lanta 5.00
5. Whipping Post 22.00

CD 5

March 13, 1971 - Second Show - Part 2

1. Mountain Jam 33.00
2. Drunken Hearted Boy (with Elvin Bishop) 7.30

CD 6

June 27, 1971 - FILLMORE EAST Closing Show

Introduction by Bill Graham (previously unreleased)
1. Statesboro Blues 5.52
2. Don't Keep Me Wonderin' 3.34
3. Done Somebody Wrong 3.37
4. One Way Out 5.01
5. In Memory Of Elizabeth Reed 12.44
6. Midnight Rider 3.01
7. Hot Lanta 5.41
8. Whipping Post 19.17
9. You Don't Love Me 17.56
---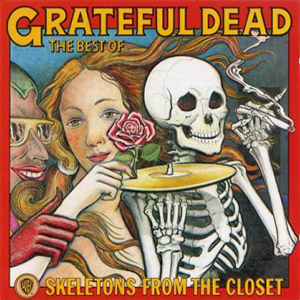 Deadheads will surely perk up at the news that a never-before-released Grateful Dead show offering an in-studio performance recorded for German TV show Beat Club back in 1972 will make its way to movie theaters across North American this summer.
The movie, called Beat Club 4/21/72, features the Grateful Dead playing a short version of the set they famously played on their 1972 tour of Europe. It will play tomorrow on June 17 as the fourth annual installment of the band's "Meet-Up at the Movies" series.
"To see such outstanding footage of some of the Grateful Dead's most important songs from 1972, including a 20-minute version of 'The Other One' and two way-out-there renditions of 'Playing in the Band,' is a truly remarkable experience," Grateful Dead archivist David Lemieux said in a statement. "There's never been a show from this era filmed so clearly in its entirety, and this audiovisual document captures the band at arguably their creative zenith."
Beat Club 4/21/72 viewings will take place one night only at 7:30 p.m. local time at select movie theaters in the U.S. To find a theater near you and purchase tickets, visit the Fathom Events website.
---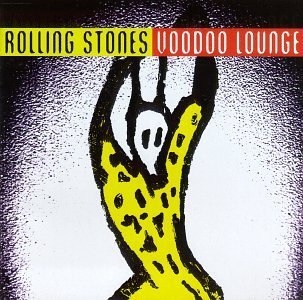 Billboard recently published a list of the 25 top grossing live acts since 1990. Upon first glance, what strikes you is that the list is dominated by rock bands, a good sign that rock music is still alive and well. The Rolling Stones top the list, grossing a staggering $1,565,792,382 over the past 24 years.
Now granted, this doesn't show what the final profit for the band is, but it's safe to assume that Mick and the boys got to keep their fair share.
U2 follow closely behind the Stones, and even though their total attendance is higher (20,536,168 against Stones' 19,677,569), they grossed slightly less with $1,514,979,793 in total. Bruce Springsteen, the hardest working man in rock, comes in as number three on the list, grossing $1,196,116,507, but with almost 200 shows more than both the Stones and U2.
Other notable rock acts on the list include Bon Jovi (No. 5), Dave Matthews Band (No. 7), and The Eagles (No. 10).
Visit Billboard to see the complete list.
---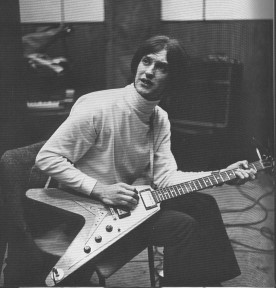 The Kinks co-founder Dave Davies has issued a 'not-so-fast' to England's Telegraph newspaper after a report that the band was ready to reunite.
The Telegraph had reported that Ray and Dave Davies had resolved their differences and were hoping to release new material soon, after a stage musical about their career helped them to reconcile. But Dave Davies has told his Facebook fans, "I met and talked with Ray but nothing has been agreed on yet."
The source of the reports appears to have been a Daily Mail interview with Ray Davies confirming that he'd been chatting with Dave about the possibility. "I met Dave only last week to talk about getting back together again," he said. "We've also spoken a few times on the phone and emailed. He's been composing his own songs, but I'd really like to write with him again. We both agree we don't want to do old stuff or tour with past hits. It's got to be something new."
For Further Reading:
Gibson Flying V Legend Dave Davies' 10 Greatest Kinks Performances
---