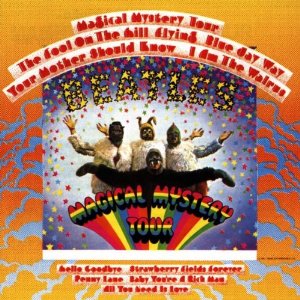 The Beatles' 1967 feature film, Magical Mystery Tour, will be shown in select theaters around the world beginning September 27. Details regarding theater locations have yet to be specified. The long out-of-print film has also been restored for an October 8 release on DVD and Blu-ray, replete with a remixed soundtrack (5.1 and stereo) and special bonus features.
Among the added features are never-before-seen footage, newly-filmed interviews with Ringo Starr and director Paul McCartney, and a "Director's Commentary" recorded by McCartney. A special box-set deluxe edition will also be available. The deluxe version includes both the DVD and Blu-ray, a 60-page book with background information, photographs and documentation from the production, and a reproduction of the mono double 7" vinyl EP of the six new Beatles songs that were originally issued in the UK to complement the film's 1967 release.
Once the theater locations for the screenings are confirmed, full listings will be available at www.thebeatles.com.