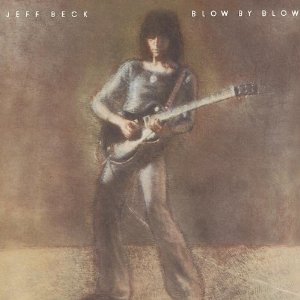 Sometimes, just when it seems all styles and techniques for guitar-playing have been exhausted, an album comes along that changes perceptions about what a player can achieve with the instrument. Below are 10 albums that broke new ground for rock guitar and spawned legions of disciples. Please chime in with your own choices in the comments section.
Blow By Blow (Jeff Beck, 1975)
Probably no one was more surprised than Jeff Beck when Blow By Blow struck gold with the record-buying public in 1975. The all-instrumental disc, rightly regarded today as a classic, fused rock, jazz and funk in ways that had never been done before, with Beck offering up a dizzying array of interlaced solos, crisp rhythm playing and subtly shaded tones. The album helped pave the way for future virtuosic efforts by the likes of Joe Satriani and Steve Vai. The album cover art, which featured a painting of Beck playing his beloved 1954 Les Paul "Oxblood," was a nice touch as well.
Are Your Experienced (Jimi Hendrix, 1967)
No one unleashed the possibilities of the electric guitar in the way Jimi Hendrix did. Taking blues and jazz as his springboard, Hendrix used controlled feedback and six-string poetry to create music that was luminously organic and technically dazzling. Jeff Beck, Eric Clapton and Pete Townshend all recall being mesmerized by the sounds Hendrix elicited from his guitar when they saw him perform in London.
Van Halen (Van Halen, 1978)
Much like Hendrix had done a decade earlier, Eddie Van Halen opened new doors for rock guitar with this seminal album. Blessed with (and having developed) exquisite technical skills, the six-string maestro employed a trove of newfangled techniques to wrestle amazing sounds from his instrument. Moreover, the whole notion of the shredder might never have gained a foothold were it not for this groundbreaking effort.
Paranoid (Black Sabbath, 1970)
The term "heavy metal" had already been coined by the time Black Sabbath made Paranoid, but never before had a band painted with such minor-key colors. Rife with thunderous bass lines, sledgehammer percussion, and, most significantly, some of the most menacing guitar riffs ever committed to tape, the album burst open the doors for bands to explore the darker side of riff-driven rock. "Iron Man," "War Pigs" and the title track established a new type of music, one that guitarists as varied as Kurt Cobain and Kirk Hammett later drew upon.
Led Zeppelin (Led Zeppelin, 1969)
By assimilating the blues into deftly-crafted hard-rock arrangements, Led Zeppelin gave heavy metal a sophistication it had never had before. With dazzling versatility, Jimmy Page moved easily between psychedelic blues, big-scale folk balladry and thunderous rock and roll. Small wonder that, after hearing this album, guitarists everywhere aspired to write bigger and better riffs, making the '70s one of the best decades for memorable guitar hooks.
King of the Delta Blues Singers (Robert Johnson, 1961)
The history of rock guitar would look altogether different were it not for the brilliant recordings of Robert Johnson. Eric Clapton, Jimmy Page and Keith Richards are among those who have cited Johnson's guitar work as a seminal influence, with Richards praising Johnson's intricate arrangements as being "like Bach." Clapton once described Johnson's music as "the most powerful cry that I think you can find in the human voice."
After School Session (Chuck Berry, 1957)
It's no exaggeration to say Chuck Berry was the architect of rock guitar. Utilizing the simplest of ingredients – double-stop riffs, memorable intros and well-place slurs and bends – Berry came up with boundless six-string permutations. "If you want to play rock and roll – or any upbeat number – you end up playing like Chuck," Eric Clapton noted, in the 1987 documentary film, Hail! Hail! Rock 'n' Roll. "There is very little other choice. He's really laid down the law."
Surfing with the Alien (Joe Satriani, 1989)
Along with Van Halen's debut, this pioneering album set the standard for guitar-playing as rock moved into the '90s. Satriani's technical skills dazzled, but he was always more concerned with uplifting the composition at-hand rather than simply being flashy, or stroking his ego. "I was blessed that [Surfing with the Alien] was the album people took note of, because I really liked that album, and it had a positive vibe to it," he later told M – Music & Musicians. "That record was totally the truth."
At Fillmore East (The Allman Brothers Band 1971)
A tour de force of southern-based blues rock, this live set forged a template from which future jam bands could draw. Fresh from a star-making turn as second guitarist for Eric Clapton, Duane Allman teamed with Dickey Betts to craft beautifully tangled solos that combined blues rapture with the improvisational ethos of jazz. In a 2001 interview, former Allman Brothers manager Phil Walden rightly proclaimed At Fillmore East "one of the foundation albums of modern music."
Boston (Boston, 1976)
A pie in the face of the disco crowd, Boston's debut album reasserted the power of guitar-rock as a commercial force. It also showcased the role effects-gear could play in creating some of the most wondrous sounds ever wrestled from a six-string. "I was basically a dork who hit the books and liked to build things," mastermind guitarist Tom Scholz later told Guitar World. "We stumbled onto a sound that worked, and soon everybody was imitating it."