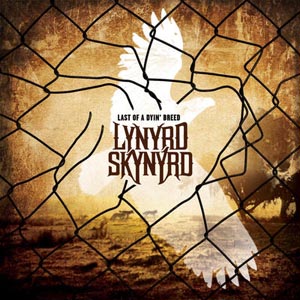 If you were to use one word to describe southern rockers Lynyrd Skynyrd, "resilience" is what first comes to mind for me. A plane crash in 1977 which took the lives of singer Ronnie Van Zant and guitarist Steve Gaines put an abrupt end to the band's initial line-up. But somehow they managed to pick up the pieces and reunited ten years later with Ronnie's brother Johnny Van Zant on vocals and have been touring and putting out new music ever since. The band recently released Last of a Dyin' Breed, their thirteenth studio album. Here we're listing ten Skynyrd facts you may not have heard of before.
1. Ronnie the Baseball Player
When original Lynyrd Skynyrd singer Ronnie Van Zant was growing up he wasn't initially looking to become a musician. The Lynyrd Skynyrd History Official Website report that Ronnie wanted to be a baseball player growing up. Said Ronnie in 1975: "I went as far as playing American Legion ball. The next stop would have been AA (minor league baseball). I played centerfield. I had the highest batting average in the league one year and a good arm - you've got to have a good arm to play outfield. Gary was good too, but he gave it all up when he got to like the Rolling Stones."
2. Gary Rossington – a Les Paul Man
Gary Rossington, who is the sole surviving original member of Lynyrd Skynyrd these days, is a Les Paul man through-and-through. Rossington is best known for his slide guitar work with the band. Earlier in the year, he spoke to Gibson.com and had some interesting things to say about his slide tunings: "Most of the time I use standard tuning for slide. Early on, we didn't have the time to change tunings on stage, plus I only had one guitar back then, so I learned to play slide in standard. But I like to play in open E a lot."
3. Sweet Home Alabama
"Sweet Home Alabama" - probably the most well known Skynyrd song, was written as a response to the two Neil Young songs "Southern Man" and "Alabama." In "Southern Man" Young sings about racism in the American South, with the line "Southern Man, when will you pay them back?" In "Sweet Home Alabama" right after Ronnie sings, "Well, I heard Mr. Young sing about her" you can faintly hear the words "Southern Man" being sung in the background. This was producer Al Kooper imitating Young. Despite what one might believe, there was no animosity between Young and Skynyrd. In fact, Ronnie would wear Neil Young t-shirts on stage, and Young said of "Sweet Home Alabama" in Lee Ballinger's Lynyrd Skynyrd: An Oral History "I'm proud to have my name in a song like theirs."
4. Coach Skinner
The origin of the name Lynyrd Skynyrd is fairly common knowledge, but it has such an amusing back story that it's worth repeating. The band tried a number of different names when they started out, such as My Backyard, The Noble Five, and One Percent. The guys eventually settled on naming their band after the gym coach responsible for Gary Rossington quitting high school after being suspended for wearing his hair too long, Leonard Skinner. The spelling of the name was eventually changed to Lynard Skynard, before it became Lynyrd Skynyrd.
5. Another Neil Young Connection
In Lee Balinger's book Lynyrd Skynyrd: An Oral History, movie director and former Rolling Stone rock writer Cameron Crowe talks about how Neil Young once offered up three songs for Lynyrd Skynyrd to record: "Neil Young gave a tape to Joel Bernstein to give to me which I gave to Ronnie, that had three songs on it – 'Captain Kennedy,' 'Sedan Delivery,' and 'Powderfinger' – before they'd come out. And he wanted to give them to Lynyrd Skynyrd if they wanted to do one of his songs. They didn't fit on Street Survivors." The songs eventually ended up on the Neil Young albums Rust Never Sleeps and Hawks & Doves.
6. Free Bird
Lynyrd Skynyrd's second Top 40 hit "Free Bird" was written around the opening piano riff that Ronnie Van Zant had heard future Skynyrd keyboardist Billy Powell play at a high school prom. The lyrics were written around something that guitarist Allen Collins' then-girlfriend, and future wife Kathy had said, which made an impact on the musician "If I leave here tomorrow, would you still remember me?" Although the song was written before his death, Ronnie came to dedicate "Free Bird" to his hero Duane Allman after he passed away in 1971.
7. Plane Crash The end of the original line-up of Lynyrd Skynyrd came as a result of that tragic plane crash on October 20 1977. The crash, which was a result of the plane running out of fuel, claimed the lives of band members Ronnie Van Zant, guitarist Steve Gaines, and Steve's older sister Cassie who was working as the band's backing singer, with the rest of the band being severely injured.
8. A Black Crowe in the Band
The newest member of Lynyrd Skynyrd is bassist Johnny Colt. Fans of southern rock will recognize him, since he was the original bass player for The Black Crowes. Colt played bass on the band's first four albums. Here's what Gary Rossington had to say about Colt in an interview with Gibson.com: "He's a great bass player. He plays all the songs the way we used to do 'em, just like Leon [Wilkerson, Skynyrd's original bassist], who was a big influence on Johnny when he was coming up. He is a real high energy guy and smart and interesting."
9. Gimme Back My Bullets
The title track from Gimme Back My Bullets was a reference to the system by which music publications review albums. For example, reviewers might rate an album on a scale of 1 to 5 bullets, or stars. However, the Skynyrd crowd took the phrase literally and would throw actual bullets on stage when Ronnie would announce the song. This would ultimately force the band to stop including the song in their set.
10. Gary Rossington on Songwriting
Here's what Gary had to say about composing all those classic Skynyrd songs in an interview with Guitar World: "We used a lot of D-C-G progressions...There's only seven chords, so you got to use the same ones over and over. It's all in what you do with them. I could write a dozen different songs with the same three or four chords but they'd all be entirely different." Sounds simple enough doesn't it?
Learn how to play "Sweet Home Alabama" here.