They share a surname, they are all blues royalty, but there are many differences between B.B, Freddie and Albert King. Here is a key guide, with a basic recommendation – listen to all three.

The 3 Kings, as they unsurprisingly become known, are among the most influential of all electric blues players. B.B. remains the King as the only surviving member, but Albert King and Freddie King were also hugely influential. In the '50s and '60s (and beyond), all 3 Kings did much to popularize electric blues, inspiring some of the most lauded players of modern times along the way Freddie King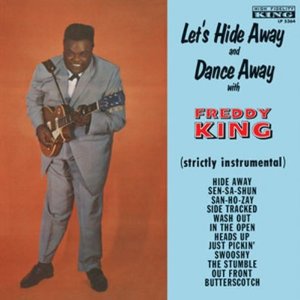 Freddie King was flash. Known as "the Texas Cannonball", his style was usually high-tempo and served up a flurry of notes. He was nine years B.B's junior and 11 years younger than Albert King, but no mere upstart. He was born Frederick Christian (his mother's maiden name was King) and from Gilmer, Texas. As a teen, his family moved to Chicago: "I worked in the mill long enough to buy me a guitar and an amplifier," he recalled.
By night, Freddie mixed with Chicago's finest bluesmen: Howlin' Wolf told him, "Son, the Lord sure put you here to play the blues."
Ironically, Chess records originally turned down Freddie King – they said he sounded too much like B.B King. But with the Federal label, he flourished. British blues players were listening too. John Mayall loved Freddie's "Have You Ever Loved A Woman."
"It's the whole package. Freddie had great infectious speedy licks, his chops were terrific."
Freddie is notable for his use of a plastic thumbpick with a metal pick on his first finger - he said he got the fingerpicking style from listening to his early guitar hero Lightning Hopkins, and the metal fingerpick idea from Muddy Waters cohort Eddie Taylor. This combination aided attack and allowed his famous fast passages to be played easily and economically.
As slide player supreme Derek Trucks points out: "Steel on steel is an unforgettable sound, but it's got to be in the right hands. The way [Freddie] used it - man, you were going to hear that guitar." More slide guitar tips.
And Eric Clapton, who by the late '60s had achieved deity status in John Mayall's Blues Breakers and superstardom in Cream, cited Freddie King as a prime source for his own licks. "l was interested in white rock 'n' rollers until l heard Freddie King," stated Clapton. "Then l was over the moon."
Clapton bought his first Gibson Les Paul after seeing Freddie on his Let's Hide Away and Dance Away album cover with a Gibson Les Paul Gold Top.

Albert King
Albert King was known as "The Velvet Bulldozer." His style was sparse compared to Freddie King: Michael Bloomfield heralded Albert as a master "who could say more with fewer notes than anyone I've ever known."
Bloomfield added, "(Albert) approached lead playing more vocally than any guitar player I ever heard. His playing has more of a vocal range than his voice does - which is unusual, because if you look at BB or Freddie King their singing is almost equal to their guitar playing. They sing real high notes then drop down.
"Albert just sings in one very mellifluous register, with a crooner's vibrato, almost like a lounge singer, but his guitar playing is as vocal as possible - he makes the guitar talk."
Albert also played without a pick. "I never could hold one in my hand," King admitted. "I started out playing with one, but I'd be really gettin' into it and after a while the pick would sail across the house. I said to hell with this, so I just play with the meat of the thumb."
Albert's soul and jazzy influences were evident on his biggest album, Born Under a Bad Sign. He employed big and powerful string bends - arguably because he played his GIbson Flying Vs left-handed in "upside-down" stringing, but could also play with an aggressive, spiteful tone. For Stevie Ray Vaughan, Albert King was the biggest of all influences.
"lt was Born Under a Bad Sign for me," remembered SRV, "and King of the Blues Guitar. l remember seeing Albert on TV doing Born Under a Bad Sign and l was like… yes!"
SRV once even walked out of his own gig to go and see King live. He announced to the audience, "Ladies and gentleman, l don't know about you, but l'm going to see Albert King. And if you have any brains you will too!"
Albert King was always in demand by other blues disciples: notable collaborations include In Session with Stevie Ray Vaughan; Still Got the Blues, with Gary Moore; and Jammed Together with Steve Cropper and Pops Staples. Albert also recorded King of Kings with his namesake Freddie, and I'll Play the Blues for You with fellow guitar legend John Lee Hooker.

B.B. King
Of the three Kings, it is B.B. who remains the most celebrated. Freddie died in 1976, Albert in 1992, but B.B. is still going strong aged 87 – a biopic, The Life of Riley, is in theaters now and soon out on DVD.
Of all three Kings, B.B. has the sweetest tone and his call-and-response style of vocals and guitar is one of the most-recognizable in all blues. "When I sing, I play in my mind. The minute I stop singing orally, I start to sing by playing Lucille," he says of his celebrated Gibson semi-acoustics.
B.B's fat tone uses very little treble, and his trilling vibrato is also a signature sound alongside a swinging jazz-like sense of phrasing. Gibson's Varitone switch is also a big part of the B.B. "honk."
I once spoke with U2's The Edge about the Irish band working with B.B. in the late 1980s. "I said, you should know, Mr King, that I don't really play the blues," Edge smiled. "B.B just laughed and replied, that's ok young man, as I don't really play chords! Together, we'll be just fine."
"I don't think anyone steals, but we all borrow," states B.B. with the wisdom of a man who's been there and done it all. "People have told me that in his early days my guitar playing influenced Peter Green a lot. Now that's something l take as a great compliment, but l don't get it myself - when l hear Peter Green, l hear Peter Green."
The King of Kings?
The three Kings influence of blues and rock guitarists since the 1960s remains incalculable – Michael Bloomfield, Jimi Hendrix, Peter Green, Gary Moore, Johnny Winter, Eric Clapton, Stevie Ray Vaughan and many others all owe at least one of them a huge debt. John Lennon famously declared, "I wish I could just do like B.B. King."
Ultimately, there is no single King of the blues. There are three – all different, all unique, and without whom the electric guitar would sound very different.