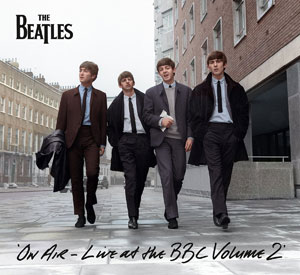 The U.K's album charts could be interesting next week – both Elvis Presley and The Beatles have "new" albums out. In the age of individual-track downloads, "heritage" artists have been recently been doing very well in the U.K. album charts.
A new Elvis best-of album, The Nation's Favourite Elvis Songs, is just out, and there's a big sales-driving documentary on the U.K's ITV this weekend.
The second Beatles BBC collection, On Air: Live at the BBC Volume 2, is out Monday. The Beatles' first collection of BBC recordings was released in 1994, hitting #1 in the U.K. charts and selling more than five million copies worldwide within six weeks.
The Beatles release is more significant. The double album contains 63 tracks in total – none of which appear on the original collection. Some 37 previously unreleased performances feature, as well as 23 previously unreleased recordings of in-studio chat between the band and BBC radio hosts.
Commenting on the release, Paul McCartney said in a statement: "There's a lot of energy and spirit. We are going for it, not holding back at all, trying to put in the best performance of our lifetimes." Between March 1962 and June 1965, 275 Beatles performances were broadcast by the BBC in the UK. The group played live on 39 radio shows in 1963 alone. One day in 1963, the band recorded 18 tracks for three editions of their Pop Go The Beatles show.
Two debut songs are a performance of Chuck Berry's "I'm Talking About You" and a cover of "Beautiful Dreamer."
The Beatles: On Air – Live At The BBC Volume 2 tracklisting:
CD1
"And Here We Are Again" (Speech)
"Words Of Love"
"How About It, Gorgeous?" (Speech)
"Do You Want To Know A Secret"
"Lucille"
"Hey, Paul…" (Speech)
"Anna (Go To Him)"
"Hello!" (Speech)
"Please Please Me"
"Misery"
"I'm Talking About You"
"A Real Treat' (Speech)"
"Boys"
"Absolutely Fab" (Speech)
"Chains"
"Ask Me Why"
"Till There Was You"
"Lend Me Your Comb"
"Lower 5E" (Speech)
"The Hippy Hippy Shake"
"Roll Over Beethoven"
"There's A Place"
"Bumper Bundle" (Speech)
"P.S I Love You"
"Please Mister Postman"
"Beautiful Dreamer"
"Devil In Her Heart"
"The 49 Weeks" (Speech)
"Sure To Fall (In Love With You)"
"Never Mind, Eh?" (Speech)
"Twist And Shout"
"Bye, Bye" (speech)
"John - Pop Profile" (Speech)
"George - Pop Profile" (Speech)
CD2
"I Saw Her Standing There"
"Glad All Over"
"Lift Lid Again" (Speech)
"I'll Get You"
"She Loves You"
"Memphis, Tennessee"
"Happy Birthday, Dear Saturday Club"
"Now Hush, Hush" (Speech)
"From Me To You"
"Money (That's What I Want)"
"I Want To Hold Your Hand"
"Brian Bathtubes"
"This Boy"
"If I Wasn't In America"
"I Got A Woman"
"Long Tall Sally"
"If I Fell"
"A Hard Job Writing Them" (Speech)
"And I Love Her"
"Oh, Can't We? Yes We Can" (Speech)
"You Can't Do That"
"Honey Don't"
"I'll Follow The Sun"
"Green With Black Shutters" (Speech)
"Kansas City/Hey-Hey-Hey-Hey!"
"That's What We're Here For" (Speech)
"I Feel Fine" (Studio outtake)
"Paul - Pop Profile" (Speech)
"Ringo - Pop Profile" (Speech)
Elvis Presley currently holds the record for the most top 10 albums on the UK chart and for the most number one singles in the U.K, with 21 hits. The Beatles are the best-selling band of all time and have had the most number one albums in the U.K, with 15.
Preview The Beatles album below.