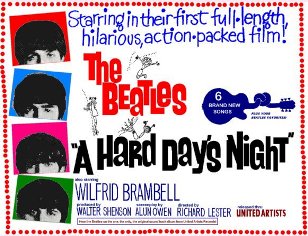 The Beatles' classic 1964 movie A Hard Day's Night is getting a cinematic re-release. The black and white comedy starring the Fab Four has been restored and is ready to once more take the world by storm.
The movie follows John, Paul, George, and Ringo during a couple of days in their lives, at the height of Beatlemania.
A Hard Day's Night, which was written by Alun Owen and directed by Richard Lester, is said to have inspired The Monkees television show. Aside from the four Beatles members, the cast includes Anna Quayle, Bob Godfrey, Patti Boyd, Lionel Blair, and Robin Ray. The movie will be released in theaters and as a digital download on July 4, with a limited edition DVD and Blu-ray to follow on July 21.
Tags :
Topics :
A Hard Days Night Rerelease, classic rock, classic rock music news, Entertainment_Culture
Social :
Entertainment_Culture
People :
Alun Owen, Anna Quayle, Bob Godfrey, George Harrison, John Lennon, Lionel Blair, Patti Boyd, Paul McCartney, Richard Lester, Ringo Starr, Robin Ray, The Beatles