The Internet just got a little bit louder and a whole lot more rock: AC/DC's entire catalog is now finally available on iTunes.
The band was one of the last major holdouts who were yet to release their mu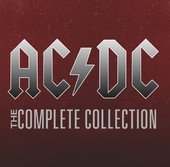 sic via iTunes. They'd previously rejected the format in an attempt to preserve the sanctity of the album as a format. "Since iTunes came into existence, we've actually increased our back-catalog sales without being on the site," Angus Young had previously said. "We are a band who started off with albums and that's how we've always been. We always were a band that if you heard something on the radio, well, that's only three minutes. Usually the best tracks were on the albums."
I'm not sure why the band has changed their collective minds but I'm glad they have, and they've done so with gusto: iTunes options include the "Complete Set" package for $149.99, the "Studio Collection" for $99.99, ringtones, the "Live At River Plate" concert cording as well as individual albums.
Released on November 20, Live At River Plate is also available as a three-disc red vinyl or a two-CD set featuring multiple covers and a 24-page booklet. The live record follows last year's "Live At River Plate" DVD, filmed in Buenos Aires on the Black Ice world tour in December of 2009.