The first live album from AC/DC in 20 years, AC/DC Live At River Plate, is released on November 20.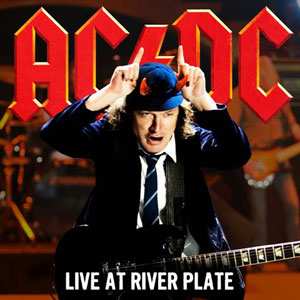 Recorded in Buenos Aires in December 2009 in front of nearly 200,000 fans, AC/DC Live At River Plate was part of the huge Black Ice tour. It will "chronicle one of the largest rock shows in history," and covers all eras of the band' songs.
The collection will be available on double CD or 3 x red vinyl L.P. with a 24-page booklet of photographs.
Tracklisting is:
"Rock N Roll Train"
"Hell Ain't a Bad Place to Be"
"Back in Black"
"Big Jack"
"Dirty Deeds Done Dirt Cheap"
"Shot Down in Flames"
"Thunderstruck"
"Black Ice"
"The Jack"
"Hell's Bells"
"Shoot to Thrill"
"War Machine"
"Dog Eat Dog"
"You Shook Me All Night Long"
"T.N.T."
"Whole Lotta Rosie"
"Let There Be Rock"
"Highway To Hell"
"For Those About to Rock (We Salute You)"