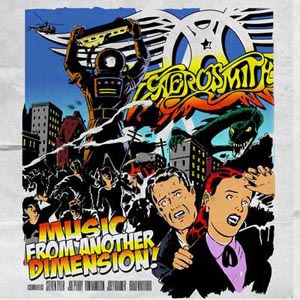 Tom Hamilton of Aerosmith has contributed musically to the band's songs throughout their career, with memorable bass lines such as those in "Sweet Emotion," and "Janie's Got a Gun." But on the band's new release Music From Another Dimension, Hamilton tries his hand at writing lyrics for the first time, with the song "Tell Me". Says Hamilton to Rolling Stone: "I had these chord changes, and I thought maybe I could try writing lyrics...It was a whole new experience for me. The song is about lost love, but I've been married since I was 25 years old. My wife goes, 'What the hell do you know about that?' I was just evoking a feeling I had when I was a kid listening to the Beatles and the Stones – I always loved their lonely sounding songs."
Steven Tyler has nothing but praise for Hamilton's song writing abilities: "He may be a bass player but his melodic sensibility on a 12-string and the things he picks are just brilliant...He's got a great ear. He hasn't strutted that for a while because we just haven't got around to it. We did this time and I was blown off my fuckin' perch."
Music From Another Dimension is released on November 6.