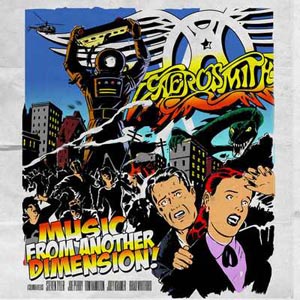 By now, hopefully you know Aerosmith's much-anticipated 15th studio album — Music from Another Dimension! — will hit stores and online outlets this Tuesday (Nov. 6). In advance of the shiny new set of rock songs, the Boston men have booked a slew of appearances on several TV shows in the days leading up to the release.
Set your TVs to catch Aerosmith perform live on CBS' The Late Show with David Letterman tonight (Nov. 1). The guys aren't just playing live on the show, either: Frontman Steven Tyler and guitarist Joe Perry will also sit down for a short interview with Letterman.
Then, Aerosmith will be up early Friday morning (Nov. 2) to perform an outdoor set at NBC's Today show in conjunction with the show's Toyota Concert Series. Additional Friday appearances include stops on ABC's The View and VH1 Big Morning Buzz Live.
Say you'd rather catch Aerosmith in person? The band is set to launch the second leg of its Global Warming World Tour next Thursday (Nov. 8), and the run takes them from opening night in Oklahoma City, Okla., through a Dec. 13 gig in Nashville, Tenn.
What's your favorite classic Aerosmith riff or song? Give us your picks in the comments area bellow!