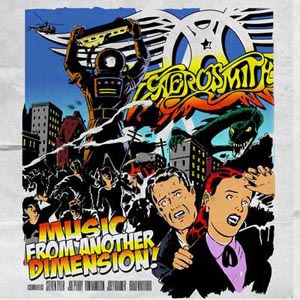 Aerosmith have announced the second leg of their Global Warming Tour. The band hit the road in support of their Music From Another Dimension album, which is out in November. New tracks include "Out Go The Lights," "Oh Yeah," "Luv XXX," "We All Fall Down," "Street Jesus" and "Can't Stop Loving You," on which Steven Tyler duets with Carrie Underwood. The album also includes "Freedom Fighter," which features Johnny Depp on backing vocals.
Aerosmith wrapped up the first leg of the Global Warming Tour this summer, on which they were joined by Cheap Trick as special guests. The new tour goes from November to December.
The next dates are:
11/8 — Oklahoma City
11/11 — Wichita
11/14 — Kansas City
11/16 — Austin, Texas
11/20 — New York, Madison Square Garden
11/23 — Atlantic City
11/25 — Columbus
11/27 — Toronto
12/1 — Las Vegas
12/3 — Los Angeles
12/6 — New Orleans
12/9 — Fort Lauderdale
12/11 — Tampa
12/13 — Nashville
Full details at aeroforceone.com.