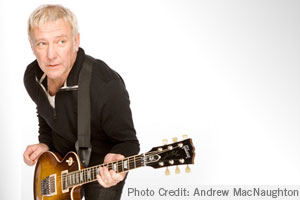 Rush Guitarist Alex Lifeson has told The Dallas Morning News how he loves the Canadian band's fans. And he likes that they're not "cool," just like Rush.
"There's definitely a strong relationship between us and our audience," Lifeson said. "And I think it's partly because we've never been the cool thing. We've never been the trendy thing. We've just been hard-working and done what we believed in. We wrote the music we wanted to write. We didn't try to write pop hits. … Maybe there's a cultish quality about who we are."
That said, Lifeson admits that recent projects have heightened Rush's profile. "It changed a bit in the last four, five years — since [the 2009 movie] I Love You, Man and the Beyond the Lighted Stage documentary. We have a new audience. We're getting more press than we used to. The Rock And Roll Hall Of Fame thing. It's one thing after another.
"We've been around for so long, people who grew up listening to us are adults with jobs and families, and they've always been along for the ride — like the Grateful Dead, I suppose. They were connected to their fans without airplay… Maybe that's what connects us to the fans. They feel like they can sit down with the guys in Rush and have a beer and it'd be no big thing."
Read more about Alex here.