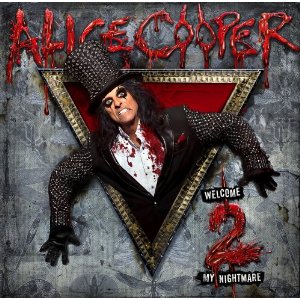 Alice Cooper and the upbeat '80s-themed musical Rock of Ages may not seem a likely combination. But, Cooper has given his shock rock stamp of approval to the show, as audience members at the U.K. production of the show in London on Tuesday (Aug. 14) got treated to a surprise appearance from the Coop. The singer joined the musical's cast for a killer rendition of his 1972 chart-topper "School's Out." This week was also the 40th anniversary of "School's Out" reaching #1 on the U.K. singles charts.
The Cooper appearance wasn't a complete surprise. Earlier this week, the singer took to his official Twitter page to post some messages hinting that he might be appearing on the Rock of Ages stage.
Cooper recently finished the European leg of his 2012 No More Mr. Nice Guy tour. He plans to play more U.K. dates in late October as part of his third annual Halloween Night of Fear spree. Cooper will also kick off a North American tour Nov. 7 in Calgary, Canada, and that tour is currently scheduled to run through Dec. 1 in Indio, Calif. For more on everyone's favorite villain, visit the rocker's official website.