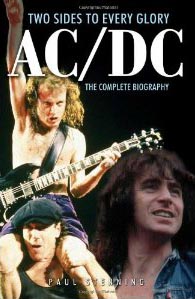 AC/DC's "schoolboy" Angus Young has topped his class. He has been voted the best Australian guitarist of all time in a poll conducted by Australian Guitar Magazine.
Young beat fingerpicker extraordinaire Tommy Emmanuel to the top spot in the editors' poll for the magazine. Cold Chisel's guitarist Ian Moss was third.
There was little good news for Australian guitarists who have started their careers in the past decade or so. Of the top 10, one cut his first record in the 1960s (Ross Hannaford of Daddy Cool), seven in the 1970s (Young, Emmanuel, Moss, Rick Brewster of The Angels, Deniz Tek of Radio Birdman, Jim Moginie of Midnight Oil and Lobby Loyde of Billy Thorpe and the Aztecs) and two in the 1990s (Grigoryan and Chris Cheney of The Living End).
"Angus has the sort of skills that allow serious rock lovers to overlook the fact they're being demonstrated by a tiny gurning man in his late-'50s, dressed as a schoolboy," says Andrew P Street of Australian Guitar Magazine. Fellow Top 10 finalist Chris Cheney (The Living End) concurs. "Under the image is a supremely talented guitar player responsible for some of the most distinctive guitar riffs ever … he is one of the absolute all-time greats. To me it's like Hendrix, Page, Keith Richards, you know he's one of those guys."
Oddly, it's not mentioned that Angus Young is actually Scottish by birth. He and brother Malcolm's family emigrated to Australia when the boys were infants.