---
Astronaut Covers Bowie Classic In Orbit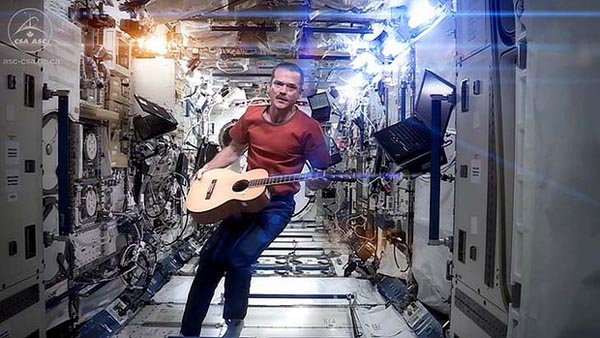 Sorry for the pun but there's no other way to say it: Canadian astronaut Chris Hadfield — often called 'the coolest guy in outer space,' — has recorded the most out-of-this-world cover ever: David Bowie's "Space Oddity" from 250 miles high and hurtling around the Earth at more than 17,000 miles per hour while aboard the International Space Station.

In Hadfield's version of "Space Oddity," the lyrics were altered to include mention of the Soyuz capsule aboard which Hadfield will return to Kazakhstan on Monday night. "With deference to the genius of David Bowie, here's Space Oddity, recorded on Station," Hadfield tweeted. "A last glimpse of the World."

Staff at the Canadian Space Agency and musician Emm Gryner helped to bring the song to life. And David Bowie showed his appreciation for Hadfield's efforts by tweeting "Hallo Spaceboy," a very apt reference to his 1995 track of the same name.