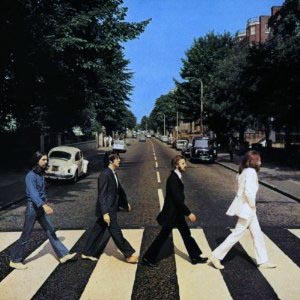 An alternative photo of The Beatles' Abbey Road album sleeve is up for auction. And guess what, it proves Paul McCartney is NOT dead.
For decades, the original Abbey Road picture has been cited as "proof" of a bizarre conspiracy theory by some Beatles obsessives – that Paul McCartney died in the 1960s.
On the cover of the band's Abbey Road album, Macca is barefoot, supposedly indicating that he had died and been replaced by a body double. George Harrison, in denim, was (supposedly) dressed as the gravedigger, Ringo Starr as the undertaker and John Lennon as the preacher.
Now, however, a photograph has come to light which supports McCartney's own explanation – that he had merely kicked off his sandals because it was a hot summer's day.
In the soon-to-be-auctioned image, McCartney has sandals on and the band are crossing Abbey Road from right to left. The picture, one of less than 25 prints thought to have survived, will be sold later this month.
London-based auction house Bloomsbury has put a "conservative" estimate of £10,000 ($16,000) on the image. The photograph going up for auction measures 18" by 18".