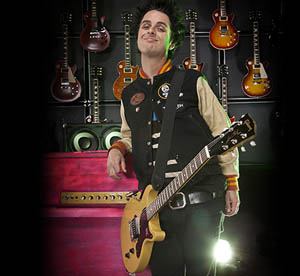 Billie Joe Armstrong is adding a punk yet Beatle-esque twist to the England's Elizabethan era – he is writing songs for a modernized version of the William Shakespeare play Much Ado About Nothing. The Green Day guitarist and frontman will compose original material for a 2014 production by the Yale Repertory Theatre, New Haven, Connecticut.
Due in March 2014, These Paper Bullets will take Shakespeare's play and reimagine it in modern England. The Yale Rep say of the production: "Meet the Quartos. Ben, Claude, Balth, and Pedro. Their fans worship them. Scotland Yard fears them. And their former drummer will stop at nothing to destroy them. Can these fab four from Liverpool find true love in London and cut an album in seven nights? These Paper Bullets is a rocking and rolling version of Shakespeare's Much Ado About Nothing with a serious backbeat."

It's not Armstrong's first venture into stage music. The Berkeley Repertory Theater worked with the singer on an adaptation of Green Day's album American Idiot, premiering the show in 2009. It later moved to Broadway, making $40m. There were recently reports that the American Idiot production is being turned into a Hollywood film.

Armstrong is not giving up his day job, though. Green Day play at 2013's SXSW festival.