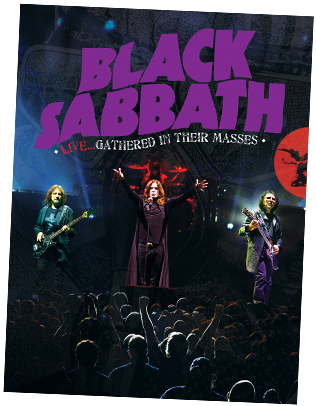 Black Sabbath have posted the official live video for their track "Loner" – watch it below. The original song features on the band's current album 13, their first full studio album since 1978's Never Say Die!
The video will be part of the forthcoming Black Sabbath DVD, Live…Gathered in Their Masses, which features footage filmed over two dates in Melbourne, Australia. Live…Gathered in Their Masses will be released on November 25 and a live CD of the gigs will also be released on the same date.
Black Sabbath are currently touring in South America before they return to Europe in November and December.
The tracklisting for Black Sabbath: Live…Gathered in Their Masses is:
"War Pigs"
"Into The Void"
"Loner"
"Snowblind"
"Black Sabbath"
"Behind The Wall Of Sleep"
"N.I.B."
"Methademic"
"Fairies Wear Boots"
"Symptom Of The Universe"
"Iron Man"
"End Of The Beginning"
"Children Of The Grave"
"God Is Dead?"
"Sabbath Bloody Sabbath (Intro)"
"Paranoid"