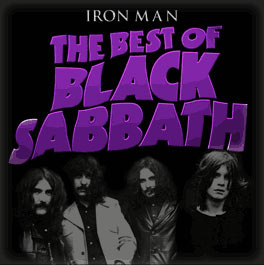 The mostly-reunited Black Sabbath (Bill Ward is still holding out over contract disputes) are now back at work on the album they began last year.
Over the weekend, Sharon Osbourne appeared on Merrick & The Highway Patrol, a show on Australian rock station Triple M. When asked about the status of Sabbath, Sharon said the band was in the studio right now with producer Rick Rubin (Red Hot Chili Peppers, Metallica, Slayer).
Earlier in the year, Ozzy Osbourne told NME.com the band had written about 15 songs, and added that "next year, 2013, is a good clue to what we're going to call the album."
Sharon also mentioned that the band will "definitely" tour Australia in the spring of 2013, although she didn't say whether she mean in the northern hemisphere spring or local spring. The latter would put such a tour around twelve months from now. It would be Black Sabbath's first Australian tour since the 1970s, although Iommi/Butler/Dio/Appice offshoot Heaven And Hell toured in 2007.
And PS: it was awesome.