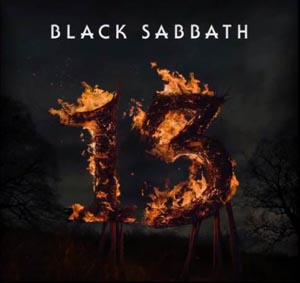 Black Sabbath have landed at #1 in the UK with 13, their first album of new tracks with Ozzy Osbourne since 1978's Never Say Die, and earning the band their first number one UK album in over 42 years: their last album to attain that honor was Paranoid in October 1970.
"I'm in shock!" Ozzy tells OfficialCharts.com. "The success of this album has blown me off my feet. We've never had a record climb the charts so fast!"
The previous record for the longest gap between #1 albums was Rod Stewart, who racked up 38 years between New Morning in 1970 and Together Through Life in 2009.
"It's great," Ozzy says." "But Rod's the same as us, we've got something other people haven't got. It's all manufactured [expletive] these days. But the likes of Rod, and Elton John and us have got something different. We know our craft."
Ironically, Stewart's new album Time clocked in at #3 in the UK this week. The Black Sabbath album sold 13,000 more copies than the #2 entry, the album BE by Liam Gallagher's post-Oasis band Beady Eye.
In America, 13 is projected to sell between 120,000 and 130,000 copies in its first week. And it debuted at #4 in Australia's ARIA charts this week, the band's first Australian top-ten result since 1974's Sabbath Bloody Sabbath.