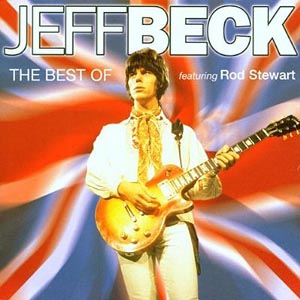 Fans, scribes and musicians have been describing Jeff Beck's unparalleled mastery on the guitar for decades, but the phrase that most accurately fits his playing is "effortless genius." His attack, invention, energy, ferocity and imagination seem instinctual. His instruments, whether the 1954 Les Paul he used during his historic Blow By Blow era or the array of guitars that have followed, are extensions of his body, and he makes them bark, howl, cry, moan or purr with something akin to a flick of the wrist.
At his core, however, Beck — who turns 68 on June 24 — is as much a blues player as a rock maven and a student of jazz. His musical roots embrace not only Les Paul and Cliff Gallup, but B.B. King and Steve Cropper.
• "Blues Deluxe": Beck's first turn as leader was the Jeff Beck Group, an outfit that brought both him and singer Rod Stewart to international prominence. And the blues was the backbone of their newfound stardom. The Group's 1968 debut album Truth hosts several of Beck's greatest blues performances, including this song, which evokes the sound of the classic '60s line-up of the Muddy Waters Blues Band with Nicky Hopkins' Otis Spann-inspired piano work and Beck's intriguing musical shorthand. His phrases and rhythm are implied rather than overtly performed until nearly the five-minute mark, when he jumps into a solo that evokes Muddy's protégée Buddy Guy on a rabid tear.
• "You Shook Me": Both Beck and Jimmy Page borrowed this gem from the catalog of the famed blues songsmith Willie Dixon. The Led Zeppelin version is considered definitive, but the Jeff Beck Group was there first. The difference between both versions is that Beck's rendition on Truth is an ensemble performance — again, more beholden to the Chicago blues tradition — and Zep's, which is a tour-de-force for Page.
• "I Ain't Superstitious": Another brave entry from Truth is the Group's take on Howlin' Wolf's "I Ain't Superstitious." It's Stewart's best performance on a blues tune, and one of Beck's truly epochal works. It defines his ken for sonic experimentation with a series of dot-and-dash wah-wah exhortations, radical bends and keening slide. After nearly 45 years this cut still must be heard to be believed.
• "Sweet Little Angel": This studio out-take from 1969's Beck-ola sessions surfaced in 2006 for the disc's CD reissue. The tune was composed and recorded by the electric slide genius Robert Nighthawk before B.B. King used Lucille to put his stamp on it. Beck goes for contrast here, injecting the song's sweet lyric with six string menace via an ungodly heavy tone and his barbed wire call-and-response with Stewart's voice.
• "Going Down": Some consider the Jeff Beck Group's 1972 version of this song, cut for their eponymous album, to be definitive, but that honor rests with Gibson ES- 345 and ES-350 legend Freddie King, who put this tune by Memphis songwriter Don Nix on his 1971 steamroller Getting Ready. Nonetheless, Beck's take on this juggernaut tune was a staple of FM rock radio for decades — and wait for the absolutely insane whammy bar maneuvers just past the three minute mark. It's the most demented twang bar work-out since Ike Turner's '50s ripper "Prancin'."
• "Black Cat Moan": The short-lived union of Beck, Vanilla Fudge bassist Tim Bogert and drummer Carmine Appice produced one of '70s rock's greatest bands, the aptly named Beck, Bogert & Appice. Their eponymous album from 1973 is a diamond and Beck brings his slide guitar prowess to the fore on "Black Cat Moan," a track that challenges Z.Z. Top's early blues 'n' boogie primacy.
• "I'm So Proud": BBA also tackled — although a better word is caressed — Curtis Mayfield's romantic "I'm So Proud" on their debut album. Beck put the blues in this soul masterpiece, carefully weaving single-note lines and graceful, floating chords around Bogert's sweet 'n' mellow voice
• "'Cause We've Ended As Lovers": Stevie Wonder's ornate blues composition got the complete soul guitar work-out in Beck's hands on his career-defining hit album Blow By Blow in 1975. Beck's version is a tribute to Roy Buchanan and borrows from Buchanan's vocabulary of bends, long-held notes, abrupt ripping phrases and volume swells. Overall, it's a study in Beck's most sensitive and eloquent playing.
• "Farther On Up The Road": This live performance from 1981's Secret Policeman's Other Ball charity album is an over-the-top duel between Beck and his fellow British blues titan Eric Clapton. Beck wins handily, but both players slash and burn while still keeping the heart of this Bobby "Blue" Bland classic beating.
• "Brush With the Blues": Beck's 1999 Who Else! album was mostly a flirtation with electronic experimentation, but this track is an unabashed return to his roots. This time Beck's the lead voice, since the track's instrumental, and he favors variations on a single note melody while still pushing the sonic envelope, defining the space between edgy and soulful.