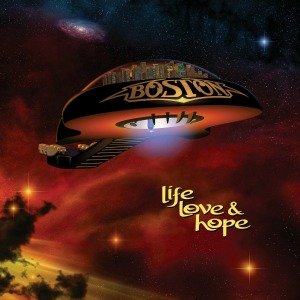 Rock legends Boston will hit the road from June to August 2014 in support of their new album, Life, Love and Hope, and drop by Harvey's Lake Tahoe August 3rd with the Doobie Brothers.
The Heaven on Earth Tour (named after the first track from the new album) kicks off on June 5 in Hollywood, Florida and sees the band running through to Springfield, Illinois on August 12. Supports at different points on the run include .38 Special, the Doobie Brothers, Cheap Trick and Steppenwolf.
Boston founder and mastermind Tom Scholz was recently honored with a recreation of his iconic hotrodded Gibson Les Paul in the form of the Collector's Choice #10 Tom Scholz 1968 Les Paul. The guitar faithfully recreates Scholz's 1968 original, which began life as a Goldtop before being extensively modified by the enterprising Mr. Scholz: the guitar is made of a solid unchambered Grade-A mahogany body with a two-piece selected plain maple top stripped of the Goltdop finish.
The original and recreation both feature a DiMarzio Super Distortion bridge humbucker, a P-90 Soapbar in the neck position and Schaller M6 tuners. And in keeping with Scholz's original, the recreations even feature pickguard mounting screw holes where the long-gone original pickguard once sat.
For more information on the Collector's Choice™ #10 Tom Scholz 1968 Les Paul, go here.
Tags :
Topics :
bosto new album, Boston tour, boston tour sacramento, classic rock, classic rock music news, Entertainment_Culture
Social :
Entertainment_Culture
Locations :
Boston, Florida, Illinois, Springfield, Tour America
People :
Boston, Doobie brothers, Les Paul, Tom Scholz