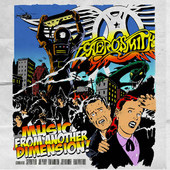 November 6 sees the release of Aerosmith's 15th album, Music From Another Dimension. Guitarist Brad Whitford says, "the band has been playing better than ever."
Speaking to Guitar International, Whitford explains, "We had an initial writing session for this CD about a year and half ago, where we worked up seven or eight songs with [songwriter] Marti Frederiksen in L.A. We had a good vibe right from that start and were having a lot of fun doing it.
"From there we went into the studio with Jack Douglas [producer] a few months later. We had a tremendous amount of ideas to work with I think even the band was surprised at the result."
Brad Whitford says it was a team effort: "Everybody came to the session with lots of ideas. Everybody contributed to the record." He admits there are many older riffs on the album, but only now have Aerosmith managed to turn them into proper tracks.
"Street Jesus" and "Out Go the Lights"… some of those riffs we have been jamming with for a long time but never quite figured out where they were going to go. With the help of Jack Douglas, we were able to finally turn them into songs instead of just riffs."
He added: "I think it might be one of the better CDs that we have ever done. Lots of times you make a CD and end up with one or two tracks that you're not totally happy with. And that typically that has to do with how much materials you have to work with. We had an enormous amount of material."