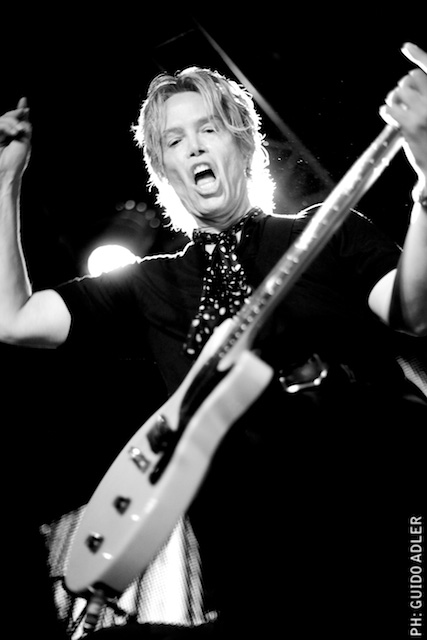 Photo credit: Guido Adler/BrianRay.com
It must be great fun being Brian Ray. As a lead guitarist and bassist, he's been in Paul McCartney's band for over a decade. Before that, he was Musical Director for Etta James. He's written/arranged for Smokey Robinson. In any spare time Ray has, he makes his own fine solo recordings, which he has now stepped up a notch with his fine new band, The Bayonets.
The Bayonets are essentially Brian Ray (guitar/vox) and drummer Oliver Leiber (son of songwriting legend Jerry Leiber of Leiber and Stoller) plus a revolving cast. On The Bayonets' new track "Vagabond Soul" The Bayonets are joined by Aerosmith's Steven Tyler on harmony vocals and blues harp. That's some cameo guest to get!
Gibson.com asked the multi-talented Brian Ray about a life rich in great guitar music and great Gibsons…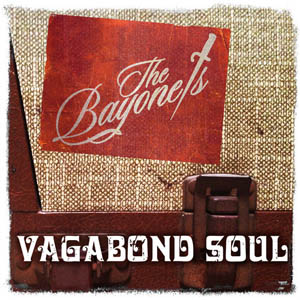 The Bayonets sound is classic rock'n'roll with soul… was there an ethos of this band from the beginning?
"Yes. The sound of The Bayonets had been buzzing round in my mind for a while. It comprised some of the guitar rock'n'roll elements that lit my mind as a kid. All sort of things, such as "Let There be Drums" by Sandy Nelson, "Rebel Rouser," songs by Link Wray, Duane Eddy, Eddie Cochran… early guitar hero records. I always liked those maverick records, but with big, clean, reverb-y guitar players.
"The Bayonets are predetermined by those parameters. We use a lot of tom-tom drums, not so much or crash or ride cymbals. Sexy drums, low guitars, a pop chorus… That's it!"
You say you started playing guitar at nine years old, which is early…
"Yep, and the artists I've mentioned were my influences. I had a transistor radio. I listened to this station out of Tijuana, and none other than Wolfman Jack was a DJ on there. He played the most crazy, original R&B and rock'n'roll – mostly black artists. I also listened to AM radio pop of the time, of course, but it all seemed to come together.
"My first gigs were with my sister, Jean Ray. She had a folk-rock outfit called Jim and Jean in the '60s. And my very first club gig was with her, at the Troubadour in Hollywood. I'd done gigs with high school bands… but there were two drunks and a dream in those audiences, haha! But Jim and Jean was bona-fide. People were clapping, not snoring."
"Then I got a gig with Bobby Pickett, who famously did "The Monster Mash." We'd play amusement parks across the States. It was a blast. And it led me to meeting Etta James in '74. I started with Etta when I was 19.
"Etta was generous to let me play with other acts as well – Laura Brannigan, writing a hit song ("One Heartbeat") with Smokey Robinson… that changed things. And I here I am, 11 years with Paul McCartney."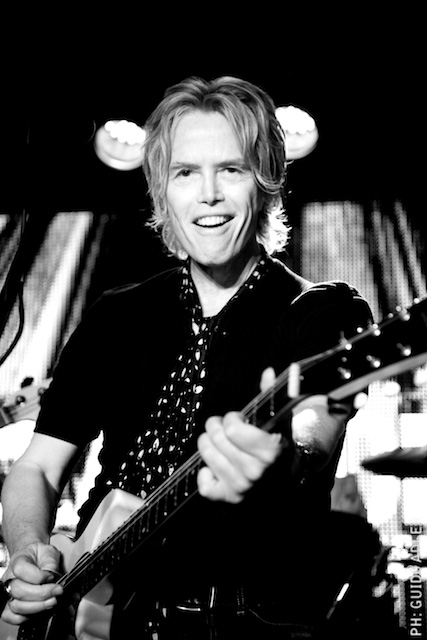 Photo credit: Guido Adler/BrianRay.com
How does it feel fronting your own band now?
"A few years ago, I didn't want to do it. I was like, "Oh my God, everyone staring at me." I was happy to stand beside stars for many years. But after playing so long with Paul McCartney, I didn't feel I had anything to really prove. There was less pressure, in a funny way, for me to do my own thing. So in 2006, I started solo albums. But The Bayonets is more of a band idea.
"It's a change. It's a big responsibility, not only to play guitar but to deliver the words, arranging, singing… but it's exhilarating. It's a different kind of charge. When I play with Paul, I'm damn sure that guy knows what he's doing and will deliver in fine fashion and with a lot of passion. I don't have a teleprompter when I'm with The Bayonets… but it's all human."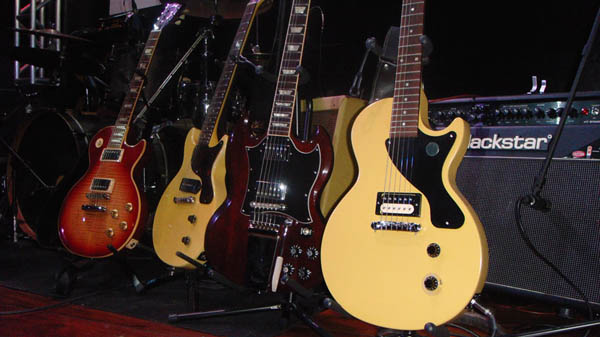 Photo credit: BrianRay.com
Aerosmith's Steven Tyler sings and plays harmonica on The Bayonets' "Vagabond Soul" – how did you get him on-board?
"I met Steven many years ago. Steven is just crazy about Paul McCartney, and I'm a big fan of Steven, so we just bonded over music. I did a show with Steven in 2007 and that went well. So for "Vagabond Soul" I just sent him a text, and asked: do you want to be involved?
"And he came over and gave us a ton of energy with his great harmonies, backing vocals – there's eight Steven Tylers singing along – plus a killer blues harp. And then Steven cut out in his Porsche, and that was that! Steven's great."
Listen to The Bayonets (featuring Steven Tyler) on "Vagabond Soul."
So The Bayonets is a "loose" band lineup?
"Yes, it's a revolving cast of characters. On "Vagabond Soul" we also have the Texacali Horns, a great horn section, and they're on other Bayonets tunes too. We've got Elvis Costello's Davey Faragher on bass, Adam MacDougall from The Black Crowes on keys… It's a different lineup all the time. The common thing is: Oliver Lieber plays drums, and I sing lead and play lead guitar on all of it… plus the songwriting, of course."
Playing guitar with Paul McCartney must be great. But sometimes you also play Paul's Beatles basslines live, when he's playing guitar or piano. Does that feel like pressure?
"If you look up 'pressure' in the dictionary, there's a little picture of me biting my lower lip, playing with Paul! I just do my best. It's a real honor and a joy to fill that bass spot when Paul is playing piano or guitar. To be entrusted with those bass parts, some of the most important ever recorded, is fantastic.
"I really enjoy playing bass now. It used to be a chore, but now I get hired to just play bass on other artists' albums. The result of practise, if you will, from playing with Paul McCartney for 11 years."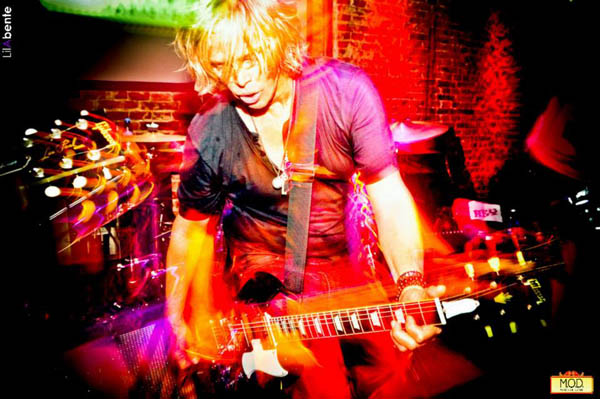 Photo credit: Ilitch Electronics
For your guitars, you seem a big Gibson fan - and you have a rare Gibson Vic DaPra Les Paul?
"Yes, and it's beautiful. The finish is a Caramel Burst Fade, limited edition… I think there are only 25. It's a Gibson Custom Shop model with a unique paint formula that Gibson and Vic DaPra worked on. If any readers don't know, Vic DaPra is a renowned collector of old sunburst Gibson Les Pauls and he knows colors. So he came up with the color, the specs for the frets, neck and certain appointments together with Gibson. It's got two old PAFs in it. It's quite the new/old machine."
"I love Gibson Les Paul TV Jrs, as you may have noticed - TV Yellow or "wheat color" from the 1950s. I've got two 1958 TV Jrs - one singlecut, one doublecut – plus a new Jr. I adore those Gibson Jnrs.
"I play the singlecuts on "Junior's Farm" and "High High High" with Paul. I use the doublecut for "Back in the USSR" – they have a slightly thicker body, with a bit more mahogany it seems. It's ferocious."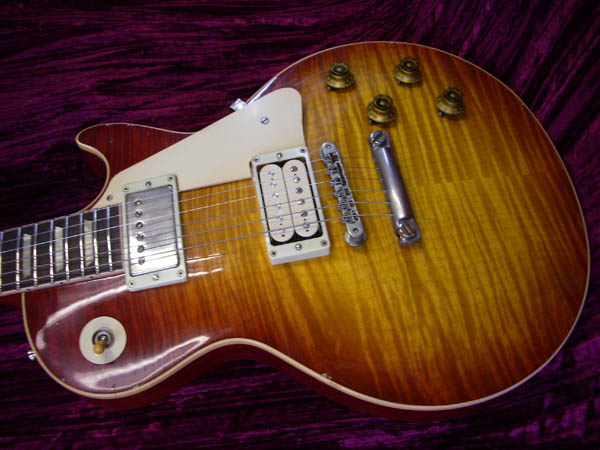 Photo credit: gmvintagerestorations.com
Some people find P-90s a bit too ferocious?
"Well, using a P-90 live is sometimes treacherous, as there's often a lot of noise associated with a single coil. But I found this guy Ilitch in Camarillo, California, who does a P-90 update – he screws on another backplate on the backplate of the controls. It's a disk about 4-inches in diameter and has a dummy coil in it. It's an induction coil that makes the pickups humbucking but without doing anything to the tone of the P-90s. So you have a hum-cancelling P-90! It's a remarkable thing and makes my P-90s as quiet as my humbucking pickups.
"Go to Ilitch Electronics. You can see my Les Paul Juniors on his webpage; mine were the first he worked on. I can't say enough about what he does."
Do you see yourself as "just" a player of guitars or a guitar collector?
"Oh, I'm a collector! I have 60 guitars right now. But I use the guitars I collect, let's put it that way. My most precious is my 1957 Gold Top Gibson Les Paul. I started with that when I was 18 years old. It has humbucking PAFs, and every show I played with Etta James I used that guitar, and I use it from time to time with Paul. It's a ridiculously good-sounding guitar. It's like an appendage of my own body now.
"My favorite acoustic is my '63 Gibson Hummingbird with maple sides and back, rather than mahogany – so I call it a Dove.
"And another favorite is a '54 ES-295 – the all-gold single cutaway style, just like Scotty Moore used with Elvis. That's the guitar you here on "Smartphone" by The Bayonets. Now that's another amazing-sounding guitar."
More from BrianRay.com and The Bayonets .
Tags :
Topics :
Entertainment_Culture
Social :
Entertainment_Culture
Locations :
California, Camarillo, Tijuana
People :
Adam MacDougall, Bobby Pickett, Brian Ray, Brian Ray Talks McCartney, Duane Eddy, Eddie Cochran, Elvis Costello, Etta James, Gibson, Guido Adler, Jean Ray, Jerry Leiber, Jim, Laura Brannigan, Les Paul, Oliver Leiber, Oliver Lieber, Paul Juniors, Paul McCartney, Sandy Nelson, Scotty Moore, Smokey Robinson, Steven Tyler, Steven Tylers, Vic DaPra, Vic DaPra Les Paul