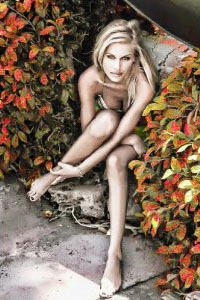 Model Bobbie Brown – immortalized as "The Cherry Pie Girl" thanks to her involvement in the video for the Warrant classic – is wrapping up work on an autobiography.
Titled Sex, Drugs and Cherry Pie, the book is scheduled for release early in 2013.
Meanwhile, Brown has just finished filming a new reality television series titled Ex Wives Rock, which begins airing on August 29 on the Slice network.
The program is co-produced by Loraine Lewis with narration by Shannon Tweed-Simmons – of course, the co-star of her own reality show, Gene Simmons Family Jewels.
As reported by Metal Sludge last year, Ex Wives Rock features Brown (ex-Jani Lane and Tommy Lee), Athena Lee (ex-James Kottak of Scorpions and sister of Tommy Lee), Susan Dixon (ex-Jerry Dixon of Warrant) and Sharise Neil (ex-Vince Neil). During the course of the series, the cast spends time at locations including the Rainbow Bar & Grill on West Hollywood's Sunset Strip (see Gibson.com's Van Halen-inspired tour of the Sunset Strip here) and struggle with the passing of Jani Lane, who died during the filming of one of the episodes.