proves that David Bowie still has the power to surprise. What is never surprising is the calibre of musicians in Bowie's go-to contact list. Here's a rundown of his greatest guitarists…

Mick Ronson

Bowie and Ronson could not have been more different. The singer/composer was an art-school dandy from London, the guitarist was earlier earning a living as a Council gardener in gritty North England city, Hull. Yet the bluff-talking Ronson was also classically trained on piano, recorder and violin.

Ronson debuted via a few cameos appearances on Bowie's Man of Words, Man of Music album (later re-titled Space Oddity), but it was proto-glam The Man Who Sold the World, that saw Ronson truly deliver.

The fuzz of Ronson's Les Paul on the title track became famous – ask Kurt Cobain – and Ronson's work on Hunky Dory, Pin-Ups and notably The Rise and Fall of Ziggy Stardust and the Spiders from Mars cemented his rep as a superb riff writer and soloist.

Ronson was a huge influence on other Les Paul guitarists of the 1970s, but his and Bowie's alliance always seemed to be temporary. Bowie himself admitted to the NME in the early '70s, "I don't think this will last long."





In-the-know guitarists will always love Mick Ronson. Ronson and Bowie were co-producers of Lou Reed's classic Transformer album of 1972. Reed later commented that Ronson was the driving force: he contributed guitar, piano, recorder and backing vocals, as well as arrangements, notably the lush strings of "Perfect Day."

After being elbowed-out by Bowie, Ronson joined Mott The Hoople, played with Bob Dylan, Van Morrison and many more. In '76, Ronson revealed he hadn't then even been back in contact with Bowie. "I didn't bother," he told Melody Maker. "I didn't really feel like listening to him making a lot of excuses. I didn't see the point."

Ronson died aged just 46 in 1993, his last major job being producer of Morrissey's album Your Arsenal. "No matter how you juggle the words, Mick was not replaced in David's life," Morrissey opined to Uncut magazine this year. "None of David's $20,000-a-day U.S. guitarists had a single grain of Mick's natural style, and even [Brian] Eno only worked with David for 14 days. Mick had been David's lifelong asset – no-one else."

Earl Slick

Earl Slick (born Frank Madeloni) has been a Bowie mainstay. He was hired by David Bowie to replace Ronson as lead guitarist for the Diamond Dogs tour in '74 (the David Live album was recorded on this tour). Slick also played lead guitar on the Young Americans and Station To Station albums of '75 and '76 respectively. Listen to the latter album's "Stay" for just one example of Slick's slickness.

Slick is back with Bowie on The Next Day. "David got in touch with me out of the blue, and he said, 'I'm ready to go back in. What are you doing? Are you around? Are you touring?' I said, 'No, just get me some dates.'" If Bowie ever does play live again, expect to see Slick at his side.

More on Earl here.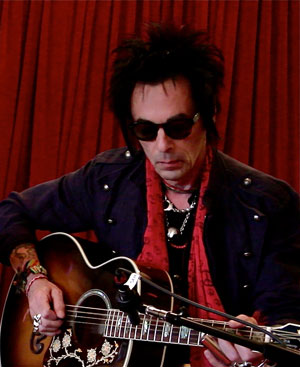 Carlos Alomar

Alomar is an under-appreciated piece of the Bowie guitar jigsaw. He first joined Bowie for the Diamond Dogs tour and Alomar's impromptu riff on a session Bowie and John Lennon recorded together (The Beatles' "Across the Universe") was developed into Bowie's "Fame." Young Americans ('75) was Alomar's first appearance on a Bowie album, and began a long period of collaboration. Alomar was Bowie's rhythm man, and underpinned Bowie's recordings for half a decade.

Bowie's "Golden Years" came from an Alomar riff. Nerd fact? Bowie's Lodger single "Boys Keep Swinging" features Alomar playing drums. Alomar also played guitar on Iggy Pop's two Bowie-produced albums of 1977, The Idiot and Lust For Life. He's also on Bowie's "Everyone Says 'Hi'" (from 2002 album Heathen in 2002). Although never in the spotlight, Alomar has played on 12 Bowie albums.

Robert Fripp

Fripp's unique guitar style is to fore on the albums "Heroes" and Scary Monsters (and Super Creeps.) His shimmering, sustaining Les Paul hovers throughout "Heroes" (the song) and across Bowie's whole 1977 album. Fripp had his own MO: for the title track, Fripp placed strips of tape on the studio floor to indicate where he should stand to sustain certain notes. "He would stand on the letter 'G,' for instance, if he wanted the 'G' note to sustain," remembered producer Tony Visconti.

Three years on, Fripp added stabbing/wailing guitar to Bowie's Scary Monsters (and Super Creeps) album. Listen to "Scary Monsters (and Super Creeps)," "Fashion," and "Teenage Wildlife" for simply astounding guitarism.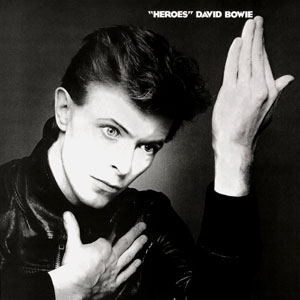 Adrian Belew

Belew joined Bowie in the '70s to play Fripp's parts, on the recommendation of Brian Eno… Fripp and Belew would later join together in King Crimson.

Bowie and producer Eno put Belew through the mincer for the Lodger album. Belew said on his website: "The record was [initially] to be called Planned Accidents and so they wanted to capture my accidental responses to the songs by not allowing me to hear them beforehand! So I would go upstairs into the recording room, put on my headphones, look into the closed circuit camera and say, 'what key would this one be in?' I'd hear a disconnected voice, 'don't worry about the key, when you hear the count off just start playing something.'"

On Lodger Belew splatters avant-garde guitar as only he does, yet "planned accidents" was a mad experiment that worked. Belew says, "David told me "Boys Keep Swinging" was written with me in mind."

Stevie Ray Vaughan and Nile Rodgers

SRV was a bit-player in Bowie's career. But what parts. SRV's soloing on "Let's Dance" and "China Girl" helped catapult Vaughan's career, yet Bowie and SRV apparently mixed like oil and water. SRV quit/was fired just before Bowie's huge Serious Moonlight tour – many reasons have been offered by different people, but we're not going there for legal reasons. Earl Slick returned to play on the tour. But, of course, Let's Dance also benefitted from the production and guitar genius of Nile Rodgers – he plays most of the album's rhythm guitars. And Carlos Alomar is in there again, as well. Let's Dance remains Bowie's biggest-selling album.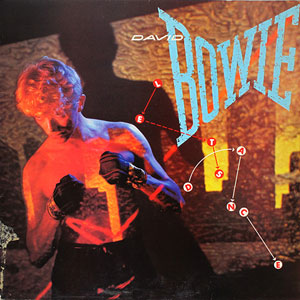 Peter Frampton

Frampton and Bowie were pals at Bromley Technical School. But they'd never played together professionally until Bowie's Never Let Me Down and the subsequent Glass Spider tour. Neither got any good reviews, but Frampton sees it differently.

"The '80s were a difficult period for me," he told M Magazine. "It wasn't until my dear friend David Bowie got me out on the road for the Glass Spider tour and on his Never Let Me Down record and reintroduced me as a guitar player around the world. I can never thank him enough for believing in me, and seeing past the image of the satin pants and big hair to the guitar player he first met when we played together in school."

Reeves Gabrels

Gabrels was with Bowie, on and off, from 1987 to 1999. The Tin Machine albums they made together weren't Bowie's most commercially successful but, like Fripp and Belew, Gabrels is an avant-garde leaning guitarist and writer with the power to surprise. Gabrels also worked on Bowie's Outside (1995), Earthling (1997), and Hours… albums though at times, you'd be pushed to realize it's actually guitars being played.

Gabrels later told MusicDish in 2002 that Tin Machine "was a volatile mix of personalities." He also added, "It is always a bittersweet compliment to me when fans, writers and reviewers say that my 'unique' guitar style was important in defining the sound of any of the records I did with David. The reason for that is the fact that on most every album I have done with him, I also co-wrote the majority of the songs and co-produced.

"I may be overly sensitive to this issue, but I am continually amazed by the number of musicians, fans and music critics who seem to be unaware of the amount of songwriting I did with David or my involvement as a producer."

Other guitarists, of course, have played on Bowie albums. So: who's your favorite David Bowie guitarist?