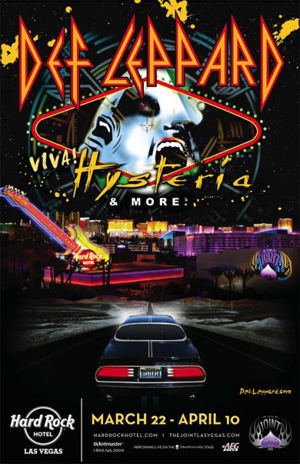 Are the days of the album over? Def Leppard's Joe Elliott is beginning to ponder that very question. As the band prepares for a Las Vegas residency during which they'll play their entire Hysteria album, Elloitt says the band's next move might be much smaller in scale.
"I don't know if we'll do an album," Elliott told Rolling Stone. "Maybe the way to go is put one or two tracks out at a time and see how it goes, almost like a 7-inch single." The band plans to use the residency as an opportunity to bring together all five members of the far-flung band in one spot to do some songwriting in between gigs, with plans to convert an extra hotel room into a miniature studio ("Hopefully they won't kick us out," Elliott jokes). "We've got a golden opportunity. We've got ample opportunity to look each other in the eye and go 'what you got?' We're back to that rehearsal room vibe."
The Vegas residency at the Hard Rock Hotel kicks off on March 22, and will find the band playing obscure cuts like "Don't Shoot Shotgun: and "Run Riot."
But you can't really call anything on Hysteria 'obscure' - it's sold over 20 million copies and spawned a whopping seven singles between August 1987 and February 1989, and tracks like 'Pour Some Sugar On Me' are bona fide rock classics. "We're not changing arrangements – like Bowie or Tom Waits might do," Elliott says. "We are going to play these songs as they are on the record. This way we're going to revert back to the original versions."