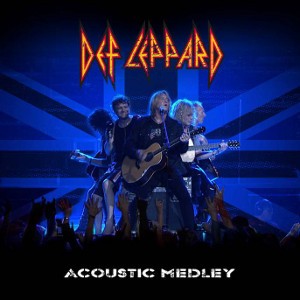 Def Leppard have released a medley of acoustic rock songs that were featured during their 2012 live shows, exclusively on iTunes.
The 7-minute-plus medley includes snippets of "Where Does Love Go When It Dies," 'Now," "When Love and Hate Collide," "Have You Ever Needed Someone So Bad" and "Two Steps Behind."
"We decided to change the acoustic section of the set for the Rock Of Ages tour, and what we ended up with just grew into a really magical experience every night," says singer Joe Elliott. "We all enjoyed doing it so much and it was so well received by our audience, we decided to do a studio recording of it. I think it complements our main body of work very well."
In 2013, Def Leppard play a nine-show residency in Las Vegas titled VIVA Hysteria!