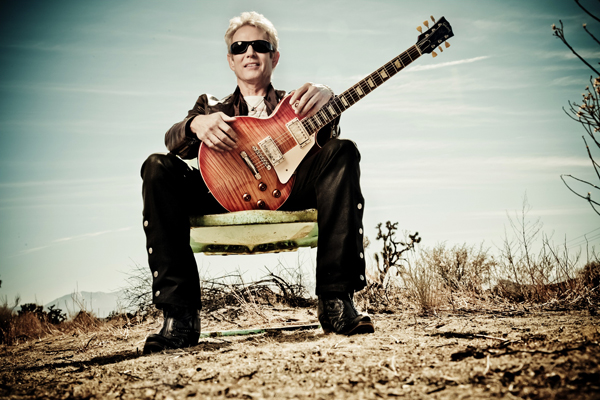 Like many great guitarists, Don Felder has a heart-wrenching gear-that-got-away story. It starts with a young boy who saved up his pennies to snag a choice Gibson guitar and, let's just say, the story doesn't end well.
"I've been a Gibson advocate since the first Les Paul Jr. that I ever got to play in high school," he said. "I scraped together some money working at a music store and playing in a band, and I finally ordered a 355, which was my dream guitar. It was cherry red. Within four months, it was stolen from me at a show in Miami. I was heartbroken. It destroyed me!
"I went out to the Gibson factory years later and walked by the guy who wraps all the bindings for all the 345s and 355s, and I had to shake his hand, because he had made the binding on my guitar. I told him the story and how much I appreciated his work. Gibson has always been a huge part of my life and career."
Thankfully, Felder has plenty of Gibsons to make up for it now, including his famed Don Felder "Hotel California" EDS-1275. We caught up with the four-time Grammy Award winner to talk about his favorite guitars; his new solo album, Road to Forever; and why having Crosby, Stills & Nash sing on his solo album was such a killer moment.
Congrats on the success of Road to Forever and it debuting #27 on the Billboard Heatseekers chart.
Thanks! It was really fun to make. I had been collecting and writing song ideas for four or five years, and I had 26 song ideas put together in my studio and chose the best. Some of my best friends came in and managed to help me, like Randy Jackson from "American Idol," Crosby, Stills & Nash, Tommy Shaw and a bunch of people who are not only great musicians, but fun. We were all smiling and laughing and having a great time.
You wrote or co-wrote all of the songs on the album. Is it important to you to be hands-on with the writing process?
I've written a lot of songs for the Eagles on nearly every album. I would write between 12 and 18 song ideas, and usually two of them would show up on the album, like "Hotel California." They were selective about what songs they wanted on the record. So, when I was no longer contained and having to write for that project, I wrote anything I wanted to write. There's such a wide variety of songs on this record that go form heavier stuff to a lullaby about my little boy to a sweet ballad about having your heart broken and trusting in love again.
How did your 27 years with the Eagles spill into your solo work?
In making records together, we all learned how to do things together from different producers and engineers, from how songs are structured to how a song is put together and laid out to how phrasing goes melodically. So, I did the same thing on Eagles records that I did on this record. Even some of the same Gibson guitars I used those years with the Eagles I used on here. It's a familiar voice, tonally. My style of playing is recognizable from the Eagle work.
So many great collaborations are on this set, from David Crosby to Graham Nash to Stephen Stills. Do you have a favorite?
I think one of my earliest mates was Stephen Stills. He and I had a band together when we were 14 years old. He's always been a great singer, so to have Crosby, Stills & Nash sing on my record, after our paths have crossed so many times over the years, was great. I've always loved those guys. Even though I've worked and played with all those guys, to have them all come in and sing on my record was a highlight for me.
What are your go-to Gibson guitars?
I have guitars that are always sitting in my studio, ready to go. I have a Sunburst Les Paul, a '59 Les Paul, a Goldtop Les Paul, Gibson acoustic guitars and on stage, I play my Don Felder "Hotel California" EDS-1275. Those are my first go-to guitars, and I use them on the road or in the studio. I have a little under 300 guitars in my collection, and Gibsons are usually the ones I go to first when writing and looking for certain sound. It's just a great instrument.
Why do you prefer Gibsons over other brands?
Personally, I think the craftsmanship, the quality of the way they're made and the attention to minute details. When I went back to the custom shop and they were looking at my old '59, they told me about the many minute changes made in that Les Paul over the years. They're constantly in the process of trying to make the absolute best guitar on the market, in my opinion. You can see that side by side. All brands are unique in their own right, but to me, Gibson has a quality that's head and shoulders above the rest.
What's next for you?
I'm planning touring all the way through the fall, and the times I'm not in a plane or hotel room, I'll be in the studio back here in California. I've already started writing for another CD, and hopefully within a year of two, I'll put out another new record.
Photo: Myriam Santos