Whether it's an amazing solo, an unforgettable riff or simply a power chord that hangs suspended in the air, a great guitar intro can set the tone for an entire song. Rock history is loaded with great examples – the ten below rank among the very best.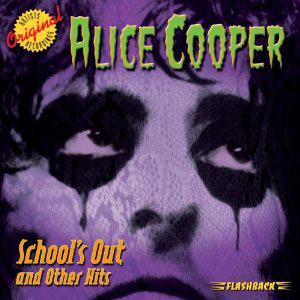 "School's Out" – Alice Cooper
Founding guitarist Glen Buxton came up with the ferocious opening riff for this classic long before the complete song was actually written. In 2007, bassist Dennis Dunaway told Gibson.com Buxton had used variations of the riff on the albums Pretties for You (1969) and Easy Action (1970). "'School's Out' had been kicking around for a while before we based a song around that intro," he said. "'Eighteen' was like that, too. It was a jam song for quite a while before it got condensed into its 'single' format."
"Heartbreaker" – Led Zeppelin
"Heartbreaker" was the first instance in which Jimmy Page recorded using his favored setup of a Les Paul and a Marshall. Speaking about the track's signature riff, producer Rick Rubin told Rolling Stone, "[It's] one of the greatest riffs in rock. It starts, and it's like they don't really know where the 'one' is. The song is magical in its awkwardness." "Heartbreaker" was a live staple for Zeppelin from very early on. Initially it was played at the beginning of their sets, whereas on later tours it became an encore.
"Layla" – Derek & the Dominos
As recently as last January (2012), London's The Guardian called Eric Clapton's monumental opening riff for "Layla" the greatest opening riff in the history of rock. Tom Dowd, who produced this classic and the album from which it came, hailed the chemistry between Clapton and Duane Allman. "There had to be some sort of telepathy going on, because I've never seen spontaneous inspiration happen at that rate and level," he told Guitar World. "One of them would play something, and the other reacted instantaneously. Never once did either of them have to say, 'Could you play that again, please?' It was like two hands in a glove."
"Crazy on You" – Heart
This 1976 debut single from Heart established that a female-fronted band could indeed be a powerhouse. The acoustic intro, called "Silver Wheels" by Nancy Wilson, remains a high point of Heart's live shows to this day. In a 2012 interview with Biography.com, Wilson explained how the idea for the intro came to her. "For 'Silver Wheels,'" she revealed, "I was channeling an acoustic piece Paul Simon played on an early Simon and Garfunkel album. It's called 'Angie.'" You can check out the similarities between the two pieces by clicking here.
"Start Me Up" – The Rolling Stones
The Stones are known for their classic opening riffs, but none packs a bigger wallop than this one does. Amazingly, "Start Me Up" languished for years before landing on the 1981 album, Tattoo You. "It was one of those things we cut a lot of times," Keith Richards told Guitar Player, in 1983. "It was a reggae track to begin with, totally different. We put it aside and almost forgot about it. Then, when we went back in the can to get material for Tattoo You, we stumbled on a non-reggae version we'd cut [during the Black and Blue sessions] and realized that was what we wanted all along."
"All Right Now" – Free
Through the years there's been much speculation about the gear Paul Kossoff used to record this sensational riff. Most people assume Kossoff played his famous '59 Les Paul through a Marshall – his standard live setup -- but an anonymous source close to Kossoff believes it may have been a Gibson L5-S solid-body, played through a Selmer T&B 50 amp. Whatever gear he chose, the late six-string legend came up with a tone for the ages.
"I Feel Fine" – The Beatles
The Beatles had better guitar intros than this one – "Ticket to Ride," "Revolution" and "Day Tripper" spring to mind – but "I Feel Fine" stands out for being the first-ever instance of guitar feedback deliberately released for public consumption. In 1997, Paul McCartney told his friend, Barry Miles, "John had a semi-acoustic Gibson guitar [a J-160E]. It had a pickup on it so it could be amplified. We were just about to walk away to listen to a take when John leaned his guitar against the amp. I can still see him doing it. It went, 'Nnnnnnwahhhhh!'" Lennon played the rest of the song on his J-160E as well.

"Reelin' in the Years" – Steely Dan
This sensational guitar-solo intro was played not by Skunk Baxter, as many people believe, but by session guitarist Elliott Randall. Speaking to Guitar World in 2008, Randall explained: "Most of the song was already complete, so I had the good fortune of having a very clear picture of what the solo was laying on top of. We did it in one take and nothing was written. Jeff Baxter played the harmony parts, but my entire lead -- intro/answers/solo/end solo -- was one continuous take…. The whole solo just came to me, and I feel very fortunate to have been given the opportunity to play it."
"Johnny B. Goode" – Chuck Berry
Never mind that the opening riff for this classic was in essence lifted from the intro to Louis Jordan's 1946 recording, "Ain't That Just Like a Woman," which featured guitarist Carl Hogan. No one except Berry and his ES-335 could have taken Jordan's idea and turned it into ground zero for just about every aspiring rock guitarist who's come in his wake. Berry's recording of "Johnny B. Goode" was included on the Voyager Golden Record, an LP launched into space aboard the Voyager spacecraft in 1977. The spacecraft contains sounds and images selected to portray the diversity of life and culture on Earth, intended for any intelligent extraterrestrial life form (or future humans) who may find them.
"21st Century Schizoid Man" – King Crimson
One could reasonably argue that progressive rock was launched with this opening track from King Crimson's 1969 debut album, In the Court of the Crimson King. Many of Robert Fripp's shrieking guitar parts, including the intro, were doubled by Ian McDonald on saxophone, which gave added weight to the menacing, industrial sound. Among the many artists who have covered this song through the years is Ozzy Osbourne, who included a version on his 2005 album, Under Cover.