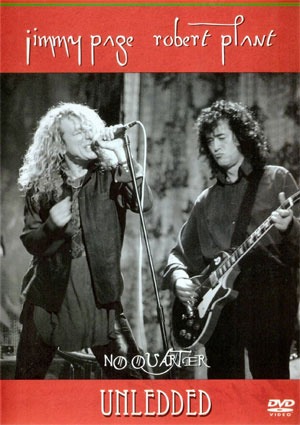 With the CD and DVD set Celebration Day riding high on the Billboard charts, we need no reminder of the potent magic Jimmy Page created as the leader of Led Zeppelin. With his beloved Les Pauls "Number 1" and "Number 2" on his shoulders as well as a variety of other famed instruments Page wrote his name across the annals of rock history in very large script indeed.
The eight studio albums and the live The Song Remains the Same recorded from 1968 to 1979 during Zeppelin's original incarnation are still the subjects of constant scrutiny by players, pundit and fans. And the studio leftovers collection Coda and well as the live How The West Was Won, an 1972 in-concert set that emerged in 2003, are equally fine-tooth-combed for arcana regarding technique and meaning.
Given the microscopic examination these recordings endure, it's surprising so relatively little attention is paid to the albums for which Page served as creative master pre-, parallel- and post-Led Zeppelin. He's never been a slouch, and these discs range from roof raising rock performances to psychedelic experimental fantasies to nail-biting soundtracks to foreshadowings of some of Led Zeppelin's finest moments.
For your consideration, here's a list of Jimmy Page un-Zepped, his most significant recordings outside of the masterpieces he created with Led Zeppelin — still arguably the world's greatest rock and roll band, even if they'll never play another note.
• Little Games, The Yardbirds (1967): Page was on deck for the Yardbirds' final hour in the studio, recording this disc with producer Mickie Most, who would go on to produce the Jeff Beck Group's stunning blues-rock masterpiece Truth the next year. Little Games was the least successful of the Yardbirds' albums. Nonetheless, it remains notable today for the recorded debut of Page's violin bow guitar technique on the song "Tinker Tailor Solider Sailor."
• Live Yardbirds (1971): Jeff Beck had left the Yardbirds well before this album was taped at the Anderson Theater in New York City on March 30, 1968, so it's a display of Page's lead guitar prowess with the group as well as a record of his conceptual advance toward forming Led Zeppelin. The disc was only released by Epic Records after the latter had become an international sensation and is fairly unremarkable except to Page's and the Yardbirds' hard-core fans. Once again, however, there is a notable historic artifact: the song "I'm Confused," which Page turned into Led Zeppelin's sweeping musical epic "Dazed and Confused."
• Death Wish II soundtrack (1982): Page's gristly compositions pumped up the intensity for the second entry in this Charles Bronson vigilante film franchise, which came on the heels of Page's attempt to form a band called XYZ with Yes' Chris Squire and Alan White as the rhythm section. Some of the soundtrack's most interesting turns — like "Shadow in the City" — are boldly experimental. The latter recalls the mid-section of "Dazed and Confused," but with primitive looping, Godzilla-toned bass and keyboards, and extended guitar technique including scraping and hammering strings.
• Whatever Happened to Jugula?, Roy Harper and Jimmy Page (1985): Page had played on several of folk hero Harper's previous albums, but this is their only full collaboration with Page on every track. His acoustic playing prevails and can be heard at full bore on the outro to "Nineteen Forty-Eightish." This is a must hear album for Page fans.
• The Firm, The Firm (1985): Page's attempts to find a suitable outlet for his playing led him to form this rickety outfit with ex-Free and Bad Company vocalist Paul Rodgers, who emerged at one point during the band's concerts dressed in white, including a cape, perched on the bench of a white grand piano that rose from beneath the stage. The group's sole charting single was "Radioactive," which had a trim guitar solo that allowed little room for Page's expressive mastery. But the band did get him out of the house and back into concert halls.
• Mean Business, The Firm (1986): This sequel is important "Fortune Hunter," a track written by Page and Chris Squire for their short-lived XYZ. Otherwise only bootleg versions of the four songs they co-wrote in 1981 are in circulation.
• Outrider (1988): Strictly speaking, this is Page's only solo album, a fully conceived studio project bearing his name that enjoyed a full-on commercial release. The disc's high points are three instrumentals, and when Page toured behind Outrider his instrumental performances of those tracks and Led Zeppelin cuts provided the high points. An important zenith was Plant's rejoining Page for vocals on "The Only One." The disc also marked the beginning of Page's collaboration with drummer Jason Bonham.
• No Quarter, Plant & Page (1994): It took MTV to reunite Page with Plant, for a television special. The disc features largely acoustic reworkings of Led Zeppelin classics and four-Middle Eastern influenced tracks that found both musicians still willing and able to expand their boundaries with winning results. This live recording also sparked several years of collaboration between the Led Zeppelin foils.
• Walking Into Clarksdale, Plant & Page (1998): Nothing quite delivers the punch of Jimmy Page and Robert Plant like Jimmy Page and Robert Plant. This disc is a dark, fascinating excursion back to their blues roots and the most emotionally rich recording either had made since the first half-decade of Led Zeppelin — at least until Plant's Grammy winning Raising Sand pairing with vocalist Allison Krause.
• Live At the Greek, Jimmy Page and the Black Crowes (2000): Page recruited blues and boogie stars the Black Crowes and hit the road playing Led Zeppelin and Yardbirds songs — and doing so in classic, ripping form. "Holy Grail" Les Paul papa Peter Green's "Oh Well" and a handful of older blues classics also made the cut.
• Lucifer Rising and Other Sound Tracks (2012): Page completed his soundtrack for experimental filmmaker Kenneth Anger's Lucifer Rising in 1972, but Anger got, well, angered at Page and stripped it from the film upon original release. Page himself issued the recordings last year, describing the disc as "a diary of avant garde compostions." It is available exclusively from Jimmypage.com