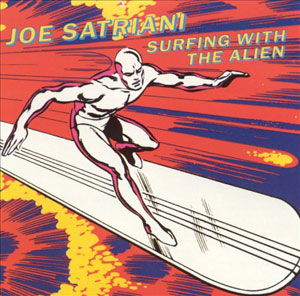 As a mostly instrumental artist, Joe Satriani has let his guitar do the talking for decades. But in April 2014, he'll be publishing his own autobiography.
Titled Strange Beautiful Music: A Musical Memoir, the book has been compiled through hours of new interviews between Satriani and co-author Jake Brown. It will cover Satriani's his long career as a solo artist, sideman and session player and member of Chickenfoot.
Strange Beautiful Music will also include photos from Satriani's personal archives, interviews with some of the many musicians and producers he's worked with and a foreword written by Queen guitarist Brian May.
Calling Satriani "arguably the Mozart of his generation," Brown enthused in a press release, "Millions of guitar players around the world have been influenced by the super-human techniques he pioneered behind the six string, and this is the story behind those songs, from Surfing With the Alien to "Summer Song" and beyond, through 2013′s Unstoppable Momentum."
Satriani adds, "I'm excited for my fans, through this musical memoir, to get a deeper look inside my creative process in the studio and the stories behind the songs… I look forward to the book hitting shelves next year!"