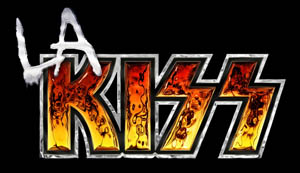 Professional football is coming back to Los Angeles this spring, thanks in part to—KISS. As reported by ESPN, the Arena Football League announced yesterday (Aug. 15) it was awarding an expansion team to a group of individuals that includes KISS's Gene Simmons and Paul Stanley. Fittingly, the team will be called the LA KISS, and will use the band's famous logo.

"As a fast-paced, high-action band, this partnership with the AFL was an obvious fit for us," Simmons said, in a prepared statement. "Attending an LA KISS game in 2014 will be similar to a live KISS show, with thrilling, heart-pounding action."

Stanley told USA Today the AFL's underdog status, as compared with NFL coverage, resonated with him. "The whole idea of an alternative to what has perhaps become a corporate sport is very intriguing, and resonates with us," he said. "We've always tried to be a band that relates to everybody, and the AFL is built on that whole premise.