Led Zeppelin may never come back. But they kinda will be, via Celebration Day - the film of the one-off reunion show they played in London in 2007. Art and tracklisting is now confirmed, after Jimmy Page spent many hours approving the sound and mix.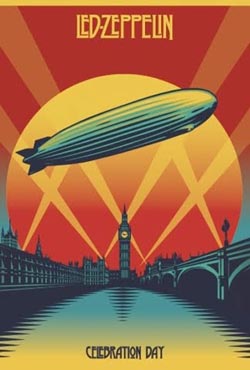 Celebration Day gets a worldwide theater release on 17 October, followed by "multiple video and audio" formats on 19 November. A reported 20 million people applied for tickets for Led Zeppelin's London O2 show nearly five years ago. And the show's 16-song set is included in its entirety in Celebration Day.
Full tracklisting is…
"Good Times Bad Times"
"Ramble On"
"Black Dog"
" In My Time of Dying"
"For Your Life"
"Trampled Under Foot"
"Nobody's Fault But Mine"
"No Quarter"
"Since I've Been Loving You"
"Dazed and Confused"
"Stairway to Heaven"
"The Song Remains the Same"
"Misty Mountain Hop"
"Kashmir"
"Whole Lotta Love"
"Rock and Roll"
Watch the Celebration Day movie trailer.