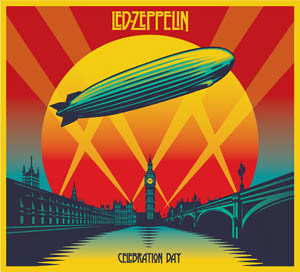 Jimmy Page, Robert Plant and John Paul Jones have been talking about Celebration Day, the forthcoming DVD and album of their 2007 live reunion.
In new interviews with The Guardian newspaper, Page says: "This was going to be a critical show. We only had one shot at it, so we needed to go out there and do it really well. There was a lot of listening to be done, there was a lot of communication – nods and winks, and you can see this generate through the course of the evening to the point where we're really communicating through the music."
Jones adds: "You need to be that close. There's a lot going on, a lot to concentrate on and focus on. Plus, I like to feel the wind from the bass drum."
Robert Plant seems less celebratory. He says his time in Zeppelin was "just kind of narrating some bits and pieces which hold together some great instrumentation." He later says, "There was nothing cerebral about what I was doing at all."
But Jones appreciates the Zep allure. "There was a Zeppelin swagger, definitely," he says. "We knew we were good. At our best, we thought we could be a match for any band on the planet. And at our worst, we were better than most of them."
Led Zeppelin Celebration Day is out in November. Led Zeppelin have no plans for further shows.