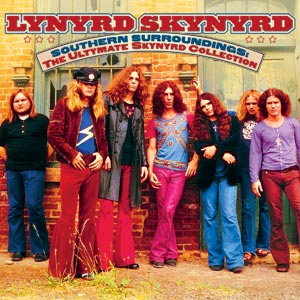 Lynyrd Skynyrd will release a three-disc CD/DVD set, Southern Surroundings, exclusively through Walmart, on August 7, 2012.
The deluxe collection features a seven-track DVD from a live performance on BBC's Old Grey Whistle Test, and a 10-song DVD-Audio/Video boasting 10 classic songs newly mixed in 5.1 surround sound by Grammy-winning producer Elliott Scheiner.
The BBC DVD features live performances of "Double Trouble," "I Ain't The One," "Call Me The Breeze," "I Got The Same Old Blues," "Every Mother's Son," "Sweet Home Alabama" and "Free Bird" originally broadcasted on November 11, 1975.
Roadrunner/Loud & Proud Records will release the band's new studio album, Last of a Dyin' Breed, August 21.