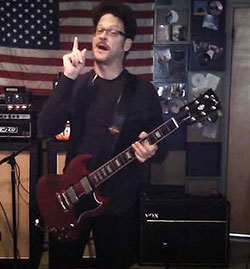 Ex-Metallica bassist Jason Newsted launches his new band this weekend. They are called Newsted.
In a recent interview with Eddie Trunk's Friday Night Rocks radio show on New York's Q104.3 FM, Newsted stated about his plans to release original music via his newly launched website. "Whatever it ends up being — if it's five songs, 20 songs, 50 songs… I don't even know what the heck I'm gonna do. I have so much music from over the years. I have a bunch of new stuff, I have so many mixes of projects with people — new players, young players, old-school players like myself — so I'm just trying to figure out exactly what I wanna unleash on everybody first."
Asked how he plans to release his music, Newsted said, "I see a couple of the old avenues still being there that will always be there in the purest form — making the vinyl and everybody having the special-edition vinyl to be able to read the lyrics… that will be percentage of it for the fans that really dig the real American kick-ass guitar music."
Newsted also talked about "doing four tracks at a time in EP form every few months, letting people have some fresh metal. I think that's a pretty good concept, a pretty good formula — I'm hip to that, [and] I'd like to warm up to that. Since it is new territory for me, I'm really open to that idea; I think it's a good way to spread stuff."
Head to newstedheavymetal.com this weekend to learn about the album title. In one of his recent update videos, Newsted is playing a red Gibson SG.