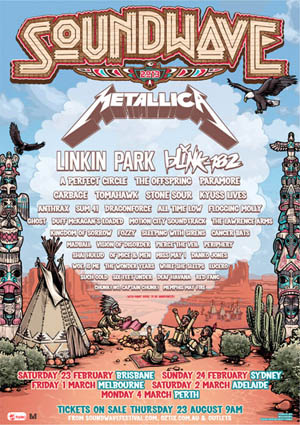 Will Metallica play the 'Black' album in its entirety when they headline Australia's Soundwave festival next month?
The band had previously played the 'Black' album live in Europe, where they took the unique step of performing it in reverse order, ending with "Enter Sandman."
I guess that makes sense - after all, that was a pretty long album and even as a kid when I had more time to just sit and listen to an album from start to finish, I rarely made it to the end in one sitting.
Last year Lars Ulrich told Rolling Stone magazine that credit for the idea of playing the album backwards should depends on what you think of it: "If you like the idea, it was mine. If you don't, it was James'. For better or worse, I'm the setlist guy. This is all subject to change if it doesn't work. But the idea of starting off with the lesser-known songs buried down there and ending up with 'Sad But True' and 'Enter Sandman' seems like a winner. You finish with the money shot, which is the first song."
Soundwave will feature dozens of bands across nine stages, including three of thrash's Big Four (Metallica, Slayer and Anthrax - rumors of a late Megadeth addition were probably just wishful thinking), Periphery, Fozzy, Stone Sour, Tomahawk, Linkin Park, Blink 182, A Perfect Circle, Garbage, Cypress Hill, Paramore, Duff McKagan's Loaded and many more. The full lineup can be found here if you're considering a trip to Australia and can find tickets.