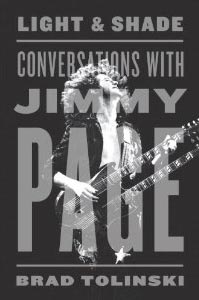 Light & Shade: Conversations with Jimmy Page is a new book out on October 23. It's written by Guitar World's Brad Tolinski, a long-standing friend of Page and with two decades of interviews to draw on.
More than 50 hours of interviews have been distilled, and the book covers all aspects of Page's career. Preview copies have admirers already.
Slash says, "This is the most comprehensive and compelling collection of interviews, insights and historical anecdotes of one of rock and roll's premier guitarists, songwriters and producers ever compiled. A fascinating must-have for Jimmy Page fans like myself."
Kirk Hammett says, "Light & Shade illuminates the haunted genius of Jimmy Page in an original and completely satisfying way. The conversational dynamic between the author and the subject reveals a wealth of info about the man, the music, and the magic."
Billy Gibbons says, "Jimmy Page... the one and only! From mild to wild, Jimmy sez it all. This fine work will rock you!"