Dick Taylor of The Pretty Things was also one of the original members of the Rol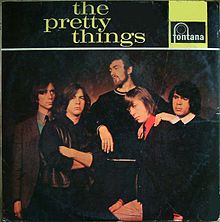 ling Stones, or as they were then the Rollin Stones (no "g").
Music-News.com reports that Taylor explained the spelling to Noise.com: "Yeah because 'Rollin' Stone Blues' was how it was spelt on the Muddy Waters record. I noticed in the very first gig we ever did it was billed as Mick Jagger and the Rollin' Stones.
Taylor also remembers the shy Keith Richards joining up. "I was involved with Mick from a very early age. Then when I went to Art School I met Keith Richards. There I was at art school at the age of 16 and still rehearsing with Mick. Keith was playing guitar. He was fascinated by Scotty Moore. He was too shy to suggest he come around to rehearse with us until one day he and Mick caught up with each other. They had known each other when they were really young. At that point we decided to get him round. Then we had Mick, myself and Keith playing together for quite a while. Then we met Brian Jones and the Rolling Stones came together'.