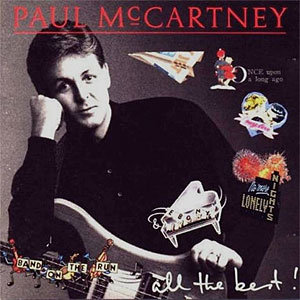 Former Beatle Paul McCartney is one of the many performers slated to perform in next month's "12.12.12: The Concert for Sandy Relief" in New York City, but McCartney's involvement with Sandy goes beyond playing the show. Apparently, Sir Paul almost confronted Hurricane Sandy head-on.
"I actually just escaped Sandy," McCartney told The Sun. "I had taken my little one on holiday to the Bahamas. The day I was supposed to be leaving, they told me there was a storm blowing in. I'd just flown out of there and that evening the storm hit." Sir Paul, of course, is relieved to have missed Sandy's destruction. "It was terrible," he said. "I just scraped out of that."

McCartney is looking forward to his appearance at "12.12.12," which will also include performances from Pearl Jam frontman Eddie Vedder, Foo Fighters singer Dave Grohl, Billy Joel, the Who, Bruce Springsteen & the E Street Band, Bon Jovi (along with his full band), Pink Floyd's Roger Waters and more. As for what to expect from McCartney's set, he says he as "a couple of special moments up my sleeve."
In other McCartney news, the musician will appear as the musical guest on "Saturday Night Live" on Dec. 15.