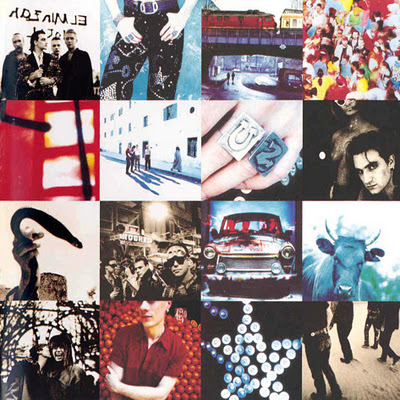 U2's Achtung Baby is now acclaimed as U2's finest achievement, but the 1991 album nearly didn't get made. In fact, its beginnings nearly split the Irish band apart.
By the turn of the '90s, U2 were at a crossroads. They were a major stadium act, but creatively they were faltering. The band had been stung by media criticism of their half studio / half live double album Rattle and Hum. That 'toying' with Americana certainly delivered some hits ("Angel Of Harlem," the Bo Diddley-esque "Desire," the B.B. King duet "When Love Comes To Town") but many found the album too much of a pastiche. U2 suddenly became the most loved/hated rock band on the planet. What to do? As Bono told a Dublin crowd in the late '80s: "We have to go away and dream it all up again."
As guitarist Edge later reflected, the 'traditionalism' of Rattle And Hum was the exception in the U2 canon. "My view," he told this author in 1996 "is that Rattle And Hum, for all its traditionalism, is actually our 'experimental' record. Achtung Baby got us back to our normality — making dark, very European music with experimental sounds." Famously, U2 decided to impose new rules for Achtung Baby, the band's rebirth.
Bono: "Buzzwords on this record were trashy, throwaway, dark, sexy and industrial (all good) and earnest, polite, sweet, righteous, rockist and linear (all bad)."
But the sessions, in Berlin's Hansa Studios nearly collapsed completely. U2 had booked Hansa hoping to capture the "greatness" of two of their favorite albums: David Bowie's Low and Heroes that were recorded there. But when they turned up, they couldn't even write a song. "The greatness," Bono laughs on the new U2 documentary From The Sky Down, "had left the building."
Bassist Adam Clayton admitted in Bill Flanagan's biog U2 At the End of the World, constant touring in each other's pockets had taken its toll: "We had to decide how much we liked each other… I'm not saying that was easily resolved."
But "One" rescued them. U2 were struggling to come up with anything all four felt was good enough. Bored of hammering at a demo called "Sick Puppy" (that later morphed into "Mysterious Ways"), Edge hit on an off-the-cuff chord progression that would become "One."
"At the instant we were recording it, I got a very strong sense of its power," Edge told Irish journalist Neil McCormick. "We were all playing together in the big recording room, a huge, eerie ballroom full of ghosts of the war, and everything fell into place. It was a reassuring moment, when everyone finally went: 'Oh great, this album has started.' It's the reason you're in a band - when the spirit descends upon you and you create something truly affecting. "One" is an incredibly moving piece. It hits straight into the heart."
"One" is atypical of Achtung Baby in sound, but it did kickstart U2's creativity. Some think the lyric is schmaltz: but the "one life, with each other, sisters, brothers…" line was later voted the greatest ever song line by VH1 viewers in 2006. "Earnest, polite, sweet, righteous, and linear?" "One" is all those, but if U2 hadn't dreamed that song up Achtung Baby may have collapsed into nothing.
But after "One," other songs soon formed. Maybe as a reaction to "One", U2 felt free to get more aggressive. Lyrically, Achtung Baby was a volte-face for U2. Bono, for all his '80s piety and flag waving, came to realize: "Rock 'n' roll is ridiculous," he told Rolling Stone on Achtung Baby's release." In the past we were trying to duck that. Now we're wrapping our arms around it and giving it a big kiss."
Achtung Baby was hardly pop frivolity, though. Many of the lyrics centered on love, sex and betrayal. It was certainly not wished for, but Edge's divorce of the time proved a catalyst for many lyrics. Bono's invention of alter ego The Fly allowed him also to be less chest-beating and subtler. Despite that, Achtung Baby is one of U2's most baldly religious records. On "Until The End Of The World," frontman Bono takes the role of Judas Iscariot betraying Jesus Christ. Not long before, the religious band would never have dared such a "heretic" curveball.
Daniel Lanois was the main "sonics" producer (though Brian Eno was co-credited) on Achtung Baby, and the Canadian told Sound On Sound magazine: "When I started work on Achtung Baby, U2 were interested in creating a more hard-hitting, live-sounding record. I myself had also grown rather tired of polishing details on records and pursuing the kind of perfection that has become commonplace in much rock music today. So what I did was push the performance aspect very hard, often to the point of recklessness. I think that musical recklessness goes a long way on records. You don't hear enough of it."
Even so, U2 still gave themselves maximum options - throughout the sessions, they'd play relentlessly and kept tape running constantly to capture spirited moments. Yet despite the connotations of the title, U2's Hansa studio sessions barely lasted two months: most of Achtung Baby was eventually recorded in Ireland, in a rented house by the sea, then Dublin's famed Windmill Studios.
The demos on the new Deluxe Edition of Achtung Baby show how much U2 actually change songs in the studio. Lanois recalled: "They continuously experiment and try different ways of playing and arranging the songs, until the very last moment. The guitar overdub on "Mysterious Ways", for example, went down after the mix was finished."
The guitar on Achtung Baby was key. Edge's search for darker, more sinister sounds saw him increasingly move away from his Gibson Explorer and repeat-delay Fenders in favor of Gibson Les Pauls. The change of tools gave his guitar tracks new weight, be it on "The Fly," "Until The End Of The World," or "Love Is Blindness" where he pushed a Les Paul through eight chain-linked Vox AC30 amps.
Many other makes and models are part of Achtung Baby's sonics, of course. And perhaps the key, as always, were Edge's FX. He bought two Korg A3 multiFXs to record Achtung Baby, and it is at the heart of many guitar sounds on Achtung Baby: "Mysterious Ways" showcases the Korg A3 to the maximum, and Edge admits he could not have written the song without it.
"Rockist=bad" may have been a U2 mantra of the time yet, ironically, Edge's guitar on Achtung Baby packs the most aggressive rock guitar of U2's 35-year career. "Ultra Violet (Light My Way)" is played like "old" U2, but is much heavier. And from "Zoo Station" to "Until The End Of The World," to "Acrobat" and beyond, Achtung Baby arguably boasts Edge's darkest yet greatest guitar work.
Of all U2's releases, Achtung Baby is "the Edge album." The guitarist put aside his personal strife and threw himself into work. Adam Clayton remembered: "When Edge gets on a roll, he gets on a roll. He's always been happy to keep going. I think his process of keeping going, although damaging on a personal level, has allowed him to make great strides, has been the right thing for his career. He's made tremendous progress, he's a great guitar player."
Is Achtung Baby the most coherent and consistent of any U2 album? Is it U2's best? It probably is.
Edge still sounds like Edge, but he coaxed new, darker tones that released U2 from the chiming echo of The Joshua Tree and before. Achtung Baby's harder sound and lyrical playfulness not only saved the band. It laid the path to U2's future.
More U2
10 Things You Probably Didn't Know About U2
Edge was no stranger to Gibson Les Pauls. He bought his famed white 1975 Les Paul (later auctioned for Music Rising) in 1982 inspired by Steve Jones of The Sex Pistols. A 1983 Gibson 30th Anniversary Les Paul Standard Gold Top stars on "Until The End Of The World." Other Gibsons added to Achtung Baby's darker mix — an ES-330 for the "Who's Gonna Ride Your Wild Horses" and "One", and Adam Clayton played a Gibson RD Artist bass on for "Trying To Throw Your Arms Around The World."