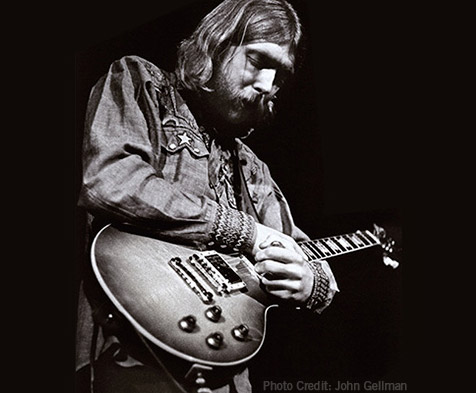 Few musicians affected those close to him as profoundly as Duane Allman did. Time and again, surviving friends and musician-peers remember him not just for his prowess on guitar, but also for his personal charisma, his leadership skills and his devotion to those who comprised his inner circle. Below we've collected some of the more incisive remembrances about Allman and his lasting impact. Please chime in with your own thoughts in the comments section.
Johnny Sandlin (producer/musician), on Duane's ability to bring out the best in his fellow musicians (as told to Swampland.com):
He was one of the most interesting, exciting and alive people that I ever knew. He was one of the most intelligent as well. Most of the time he was great to be around and he was so dedicated to music and it was a central thing in our lives. Whenever anyone played with Duane he would bring out the best in them. Not that it was a competition, but he was an inspiration. He was one of the best that there ever was.
Dickey Betts (guitarist), on how Duane developed his style on slide guitar (as told to Jasobrecht.com):
Well, Robert Johnson. You've heard that name a million times, but he's influenced so many people. I guess that he was probably one of the biggest influences on Duane. [And] who's the guy, the slide player? Elmore James! He got really into Elmore James a lot for the electric part of it. You know, Robert Johnson never played any electric, of course. So Elmore James was a big influence on his electric slide.
Tom Dowd (producer), on Duane's diplomatic skills in the studio (as told to Swampland.com):
[Duane was] a pussycat, an absolute humble, soft spoken, brilliant leader. He never provoked anyone in the band. He was never demonstrative, but he was in charge and he got everyone to go the right way, whether he did it by playing them something or saying something to them.
John Hammond (guitarist), on what it was like to record with Duane (as told to HittinTheNote.com):
Everybody just fell all over themselves for Duane, you know. He was their idol. All of a sudden these [session] guys knew exactly what I wanted them to do. From having not understood a thing before, everybody understood what the deal was. Duane was the catalyst completely for that. To play with him was like feeling almost invincible, because he played everything right. He was just terrific. It was more inspirational than actually learning notes and stuff. He was a good friend.
Butch Trucks (drummer), on the purity of Duane's musical vision (as told to The Aquarian):
Duane changed us all. He got us all to realize how important music was and that being in a band isn't about money and isn't about fame. It isn't about success. It's about playing music. I think that our best music, and when we were having the most fun, was up until Duane died. We lost that leader….
Eric Clapton (guitarist), on his friendship with Duane (from Clapton: The Autobiography):
I was mesmerized by him. I felt sure he was the leader of the band, just by his body language. Duane and I became inseparable during the time we were in Florida [recording Layla and Other Assorted Love Songs]. He was like the musical brother I'd never had but wished I did, more so than Jimi [Hendrix], who was essentially a loner, while Duane was a family man, a brother.
Phil Walden (Capricorn Records founder), on Duane's disdain for rock "fashion" (as told to Gibson.com):
For the first date outside the south, I booked them at the Boston Tea Party, where they opened for the Velvet Underground. Most of press who came out were into bands like The Who or other English groups. The comments I heard that night were things like, "You know, you ought to dress up those guys a bit." And I remember Duane made one of his classic remarks, which was, "You know, if you wanna go to a fashion show I suggest you go to the garment district. But if you want to hear rock 'n' roll music, you shouldn't be too concerned about what we're wearing."
Paul Hornsby (producer/musician), on Duane's genius for innovation (as told to Blues.GR):
Duane was one of the few musicians, who I would go as far as to say, was a genius. He was an inventor with the guitar. That's a big difference from being an imitator. In addition to being a great musician, he was just smart intellectually and was charismatic. That's just something you have and can't be explained. You either got it or you don't.
Pete Carr (guitarist), on how Duane opened up new possibilities on the guitar (as told to TheGearPage.com):
I think he took bottleneck a long, long way to people who really hadn't heard that much bottleneck – blues-rock guitar bottleneck, anyway. Just a lot of openness. When I say that, I mean as far as the playing style goes. He brought a little more freedom – not so much locked into a certain thing. You know, if you wanted to jam for a few minutes on a tune, you could do it.
Gregg Allman (musician), on how Duane loved to stir things up (as told to Gibson.com):
He was a triple Scorpio. If nothing was happening, he would make it happen. And when he was sick, it was like no one except him had ever been sick. (laughs) He was always the first to face the fire, in any circumstance.
Check out the newly released Duane Allman 1959 Cherry Sunburst Les Paul here.
Photo: John Gellman
Tags :
Topics :
Entertainment_Culture
Social :
Entertainment_Culture
Locations :
Florida
People :
Butch Trucks, Cherry Sunburst Les Paul, Dickey Betts, Duane Allman, Eric Clapton, Gregg Allman, John Gellman, John Hammond, Johnny Sandlin, Paul Hornsby, Pete Carr, Phil Walden, Robert Johnson, Tom Dowd