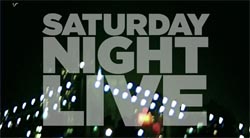 The rumor mill is churning with reports that The Rolling Stones are rehearsing this week in New York for an appearance on Saturday Night Live.
Noise11 reports that according to a posting on Rolling Stones forum iorr.org, Mick Jagger, Keith Richards, Ron Wood and Charlie Watts rehearsed yesterday with keyboard player Chuck Leavell and producer Don Was on bass. The post claims that the band rehearsed "Fool to Cry," "Jumping Jack Flash" and "Miss You."
Jagger is the confirmed host of the season finale of Saturday Night Live on Saturday, May 19. Jagger has hosted SNL once before with the Stones, appeared as a musical guest three times, and has made several cameos throughout the years, including his famous "mirror sketch" with Jimmy Fallon.
Meanwhile, U.K. newspaper The Guardian is reported to have posted an advertisement for a Rolling Stones date in Berlin on September 1. The advertisement has since been removed, but it included an authentic Aerosmith date for July 3, seemingly adding strength to the possibility it might be real.