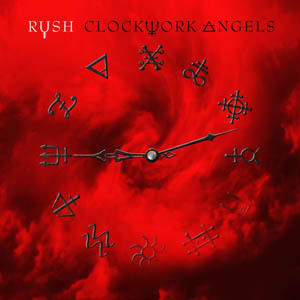 Rush guitarist Alex Lifeson has been talking to Metal Express Radio about the Canadian trio's long-awaited new album, Clockwork Angels.
The legendary guitarist admits, "it's been a long project. We released a couple of songs before the last tour and that's the first time that we've done something like that where we've recorded a couple of songs from a record that hasn't been released yet. It was kind of fun to get those songs out, to work them and play them and have a peek into what the project was going to be."
Of Clockwork Angels' ambition, Lifeson says: "I'm never sure what the plan is. We sort of start on the day and it takes its shape and we kind of go with it. I think probably with this record, we really wanted to play and wanted to stretch out a little bit. We wanted to have fun playing and also to strip things down a little. I think Snakes & Arrows, in retrospect, was a little bit dense, because it was written on acoustic guitar, which played a major role in the production. We layered a lot of acoustics and electrics and I think we got just a little cloudy at times. I really like the record, but with hindsight of living with it for a while, we realized that we kind of overcooked it a bit."
Lifeson is pleased with the contribution of producer Nick Raskulinecz. Lifeson settled his own mind about the way Clockwork Angels was going when he hooked up with Alice in Chains' Jerry Cantrell on the fairway.
"I played golf with Jerry Cantrell recently and he said the same thing, [Nick] brings what's in you, out. The thing that makes you what you are is what he hunts for."
Lifeson also revels in using his recent Gibson Les Paul Axcess model: "they are such a sweet sounding guitar," he says.