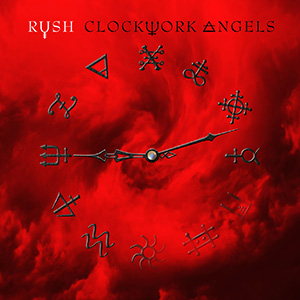 Hey, Rush fans: Come Nov. 19, you'll have a new live double-CD collection and DVD from the prog-rockers.
Rush: Clockwork Angels Tour was recorded last November at the American Airlines Arena in Dallas. The release features a three-hour performance by the band that includes plenty of hits, from "Tom Sawyer" to "The Spirit of Radio," as well as cuts off the band's latest studio release, Clockwork Angels. The live release will also mark the Canadian group's first since their induction into the Rock and Roll Hall of Fame this year.
In addition to the material on the two CDs, the DVD will also offer a 25-minute tour documentary that packs behind-the-scenes footage and interviews with band members, a rare sound check performance of Rush's "Limelight" and more. Check out the full track listing for the CDs and DVD below.
Rush's Rush: Clockwork Angels Tour Track Listing:
Set One:

"Subdivisions"
"The Big Money"
"Force Ten"
"Grand Designs"
"The Body Electric"
"Territories"
"The Analog Kid"
"Bravado"
"Where's My Thing?"/ "Here It Is!" (drum solo)
"Far Cry"
Set Two:

"Caravan"
"Clockwork Angels"
"The Anarchist"
"Carnies"
"The Wreckers"
"Headlong Flight"/ "Drumbastica" (drum solo)
"Peke's Repose" (guitar solo)/"Halo Effect"
"Seven Cities of Gold"
"Wish Them Well"
"The Garden"
"Dreamline"
"The Percussor (I) Binary Love Theme (II) Steambanger's Ball" (drum solo)
"Red Sector A"
"YYZ"
"The Spirit of Radio"
Encore:

"Tom Sawyer"
"2112"
Bonus:

"Limelight" (soundcheck recording)
"Middletown Dreams"
"The Pass"
"Manhattan Project"