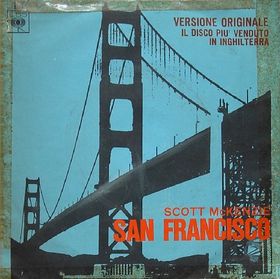 Scott McKenzie, singer of "San Francisco (Be Sure to Wear Flowers in Your Hair)," died on Saturday at the age of 73.
John Phillips of the Mamas & the Papas wrote the song for McKenzie to promote the Monterey Pop Festival. The song reached #4 on the Billboard Hot 100 and hit number one in several other countries, eventually selling more than seven million copies. But it was by no means McKenzie's only success. He and Phillips recorded three albums and seven singles with their band The Journeymen in the early '60s, he had other hits under his own name after "San Francisco," and he went on to join the new version of The Mamas and the Papas in 1986. He also co-wrote "Kokomo" for The Beach Boys with Phillips, Mike Love and Terry Melcher.
McKenzie's website reads: "It is much sadness that we report the passing of Scott McKenzie in LA on 18th August, 2012. Scott had been very ill recently and passed away in his home after two weeks in hospital. It has been our pleasure to maintain this web site over the past 15 years and this is the hardest update of them all. Farewell our much loved and wonderful friend."