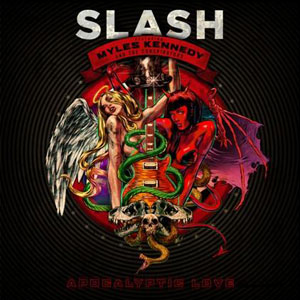 Former Guns N' Roses guitarist Slash is currently on the road with Myles Kennedy and the Conspirators, but he's also keeping busy working on the score for Nothing to Fear, the debut project being produced for his movie production company, Slasher Films.
Via some messages posted on Slasher Films' Facebook page, the Les Paul loyalist revealed that in the past week, he's been working hard on music for the flick with director Anthony Leonardi III and composer Nick O'Toole.
Last week, Slash posted that O'Toole, Leonardi and he "had a creative revelation w/the score last night; it's going to be fantastic." He added that he had "recorded some guitar parts for [Nothing to Fear]," and that the parts were "sounding so cool." He also posted a photo of O'Toole, Leonardi and himself in the studio. Sounds like a fitting project for the month of Halloween!
Nothing to Fear depicts the tale of a family involved with supernatural forces in a Kansas town. As reported in the Internet Movie Database, the film is slated to arrive in 2013.
What's your favorite Slash solo, whether it's from his GN'R days or with his solo project? Give us your picks in the comments section below!